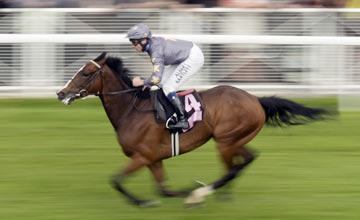 Mount Athos: "remarkable his odds didn't tumble following Cup weights"
PICTURE:
Edward Whitaker (racingpost.com/photos)
Athos can take second chance and end long wait

NEWMARKET trainers have won all the big ones. Prix de l'Arc de Triomphes, Dubai World Cups, Japan Cups, Hong Kong Cups, Breeders' Cup Classics. You name it they've won it. Every major race in the world. Except one.
The Melbourne Cup is the richest race south of the equator and the Brits haven't just failed to win it - they've become expert at losing it. A barren run stretching back 20 years with 60 individual losers is testament to their plight.
What makes matters worse the French have won the race twice recently from just a handful of runners, while the Japanese got the forecast up in 2006 from a total of four starters.
The fact British trainers continue to send their horses to Flemington every year in the face of such a mountain of disappointment is either a sterling example of the stiff upper lip in action or the proverbial definition of insanity.
Luca Cumani has come closest to lifting the Cup. He saddled Purple Moon and Bauer to finish second in 2007 and 2008 and his Mount Athos was an unlucky fifth in the race last year. Precisely how unlucky we may be about to find out.
On the first Tuesday in November Mount Athos will become Cumani's 11th runner in his eighth consecutive Melbourne Cup. But this could be the one he's been waiting for.
Last year Mount Athos arrived in Australia with a good chance. He posted an RPR of 120 in his prep (winning the Geoffrey Freer at Newbury), which is good enough to land an average Melbourne Cup, and he was handed a typical Cup-winning weight of 54kg (8st 7lb).
He was best-in on our ratings and he ran like it, finishing much faster than anything else, only from too far back to make it count. The blame for his defeat was placed squarely on the slow pace, which meant that everything racing from the front stayed in front.
They say opportunity doesn't knock twice, but last week the six-year-old was given a second chance by Aussie handicapper Greg Carpenter, who set him the same impost as last year - 54kg.
That's a hell of a concession. He was best in on RPRs last year, might have won last year, arrives with similar form to last year and now he gets the same weight to boot. It is remarkable that his odds didn't tumble when the weights were announced last week, with 16-1 still available.
Mount Athos is in great form this year. Cumani might have moaned about the rides he was given at Ascot and Goodwood, but either side of those efforts he has looked as good as ever.
He was back to his best when running Harris Tweed to a head in the March Stakes last time out and that form has worked out exceptionally well with the distant third and fourth going on to win a Listed race and Group 3 respectively.
So, he's in good form and arrives with similar credentials to last year, but would he really have won last year?
Well, he definitely could have won from a handier racing position. The first eight horses turning into the straight that day held a break over the field which no horse, other than Mount Athos, managed to infiltrate.
We have to consider the 2012 Melbourne Cup as two separate contests. Green Moon (the actual winner) won the race between the eight horses who raced up front, while Mount Athos won the race between the 16 hold-ups.
The way Mount Athos finished compared to his larger group of 16 was superb. He annihilated them, pulling right away from the next best Red Cadeaux (the fast-finishing 2011 runner up), who kept on for eighth.
We will never know whether Mount Athos would have beaten Green Moon off a stronger pace, but judging by the manner he beat those that he raced against he is clearly capable of a very big run this year.
If everything goes to plan and he gets a clean trip and runs to an RPR of 120 he will set a high standard. Home favourites Hawkspur (116+) and Puissance De Lune (115+) are expected to improve for the distance, but given the weights they were allocated they would need to hit RPRs in the low 120s to beat the Newmarket nominee.
There is always the chance of yet another hard luck story for Cumani and Mount Athos. The horse still has to go through quarantine, he has a 50-hour door-to-door journey to endure, has to settle at the other end; the pace could go belly up again, he could meet trouble in running and at any point he could pick up an injury.&l t;/p>
These same factors have to be overcome by every fly-in from Europe - that's part of the challenge - but not every fly-in starts from such a vantage as Mount Athos and at 16-1 he looks a play. Opportunity knocks twice. And it only took 20 years.
Back in Europe Intello was an underwhelming if cosy winner of the Prix du Prince d'Orange, posting an RPR of 116+. We already know the Arc candidate is better than that (122), but with Lion D'Anvers and Royal Law finishing within four lengths the form is flimsy.
The best RPR of the week came at Parx, where Will Take Charge landed the Pennsylvania Derby with a career best mark of 118.
TOP OF THE CLASS: Will Take Charge 118 D Wayne Lukas (US) (Pennsylvania Derby, Parx, 1m1f, Sept 21)
TOP LIST
| | | | |
| --- | --- | --- | --- |
| | Name (country trained) | Race | Rating |
| 1 | Toronado (GB) | Sussex Stakes | 130T |
| 2 | Dawn Approach (Ire) | Sussex Stakes | 129T |
| 3 | Black Caviar (Aus) | Lightning Stakes | 128T |
| | Fort Larned (US) | Stephen Foster Hcap | 128D |
| | Game On Dude (US) | Santa Anita Hcap/Pacific Classic | 128A/D |
| | Wise Dan (US) | Woodbine Mile | 128T |
| 7 | Al Kazeem (GB) | Eclipse | 127T |
| | Novellist (Ger) | King George | 127T |
| 9 | Gold Ship (Jap) | Takarazuka Kinen | 126T |
| | Olympic Glory (GB) | Jacques le Marois | 126T |
| | St Nicholas Abbey (Ire) | Coronation Cup | 126T |
| | Verrazano | Haskell Invitational | 126D |
TOP TURF PERFORMERS
| | | | |
| --- | --- | --- | --- |
| | Name (country trained) | Race | Rating |
| 1 | Toronado (GB) | Sussex Stakes | 130 |
| 2 | Dawn Approach (Ire) | Sussex Stakes | 129 |
| 3 | Black Caviar (Aus) | Lightning Stakes | 128 |
| | Wise Dan | Woodbine Mile | 128 |
| 5 | Al Kazeem (GB) | Eclipse | 127 |
| | Novellist (Ger) | King George | 127 |
| 7 | Olympic Glory (GB) | Jacques le Marois | 126 |
| | Gold Ship (Jap) | Takarazuka Kinen | 126 |
| | St Nicholas Abbey (Ire) | Coronation Cup | 126 |
| 10 | Declaration Of War (Ire) | International Stakes | 125 |
| | Moonlight Cloud (Fr) | Jacques le Marois | 125 |
| | Orfevre (Jap) | Osaka Hai | 125 |
TOP DIRT PERFORMERS
| | | | |
| --- | --- | --- | --- |
| | Name (country trained) | Race | Rating |
| 1 | Fort Larned (US) | Stephen Foster Hcap | 128 |
| | Game On Dude (US) | Santa Anita Hcap | 128 |
| 3 | Verrazano (US) | Haskell Invitational | 126 |
| 4 | Ron The Greek (US) | Sunshine Millions Classic | 124 |
| 5 | Cross Traffic (US) | Whitney Invitational | 122 |
| | Dreaming Of Julia (US) | Florida Oaks | 122 |
| | Orb (US) | Kentucky Derby | 122 |
| | Palace Malice (US) | Belmont Stakes | 122 |
| | Royal Delta (US) | Sabin Stakes/Delaware Hcap | 122 |
| | Sahara Sky (US) | Met Mile | 122 |
TOP ALL-WEATHER PERFORMERS
| | | | |
| --- | --- | --- | --- |
| | Name (country trained) | Race | Rating |
| 1 | Game On Dude (US) | Pacific Classic | 128 |
| 2 | Animal Kingdom (US) | Dubai World Cup | 124 |
| 3 | Mental (UAE) | Al Shindagha Sprint | 121 |
| 4 | Red Cadeaux (GB) | Dubai World Cup | 119 |
| | African Story (UAE) | Burj Nahar | 119 |
| 6 | Centralinteligence (US) | Triple Bend Hcap | 118 |
| | Comma To The Top (US) | Los Angeles Handicap | 118 |
| | Goldencents (US) | Bing Crosby | 118 |
| 9 | Delegation (Can) | Dominion Day Stakes | 117 |
| 10 | Hunter's Light (UAE) | Al Maktoum Challenge R2/3 | 116 |
| | Reynaldothewizard (UAE) | Mahab Al Shimaal/Golden Shaheen | 116 |
| | Soft Falling Rain (SAF) | Godolphin Mile | 116 |