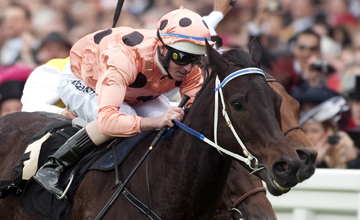 Black Caviar: plans on unbeaten sprint queen's future still undecided
PICTURE:
Edward Whitaker (racingpost.com/photos)
Moody dreaming of farewell tour for Caviar
Australia: Peter Moody wants to give wondermare Black Caviar a "grand final tour of Melbourne, Sydney and Brisbane" before retirement, but the trainer admits he does not know if she will race again.
Unbeaten in 22 consecutive starts, Black Caviar narrowly kept her undefeated status at Royal Ascot in the Diamond Jubilee Stakes, and has already been ruled out of the Melbourne spring Carnival in Australia later this year.
Moody, speaking to the Herald Sun, said: "It's a $50 million question on whether she'll even race again, and without telling a lie, I've got absolutely no idea."
"My dream is to have a grand final tour of Melbourne, Sydney and Brisbane.
"I would love something like that. If I can see it in her we'll do it. If she's not right, she has run her last race, as is the way I've approached her last five or six runs.
"Right now my recommendation will be she won't go to stud this year and we'll put it off until next year.
"I'll give her a preparation until around Christmas and if I think she's going well enough we'll see her at the races about February.
"If she's not she'll sit in the paddock until the 2013 breeding season."