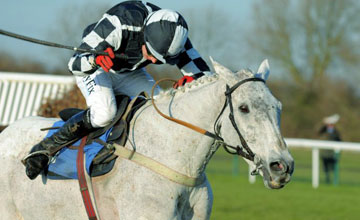 Monet's Garden: earned the admiration of race fans during his career
PICTURE:
Martin Lynch
Monet's Garden owner 'clutching at straws'

MONET GARDEN'S owner David Wesley Yates on Friday admitted to "clutching at straws" after reporting that the hugely popular chaser's condition continues to show no signs of improvement.
The courageous front-runner contracted a life-threatening hoof infection soon after his third victory in Aintree's Old Roan Chase, since when the Nicky Richards-trained 13-year-old has been retired.
Wesley Yates, who has also watched Monet's Garden win three Grade 1 races, said: "He is stable. He isn't getting any worse, but I'm afraid he isn't getting any better and the antibiotics are not working.
"We are clutching at straws and the next few days are going to be critical.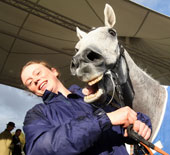 Monet's Garden with groom Joey Richards
PICTURE:
John Grossick
"The vets said two weeks ago that the chance of him recovering wasvery remote, but he is so well in himself and he has such guts that I feel we should give him the chance to get better, particularly as, due to the painkillers, he is not in any pain. However, to go on much further down the line would be cruel to the horse."
View Monet's Garden's glorious career in pictures with our photo gallery