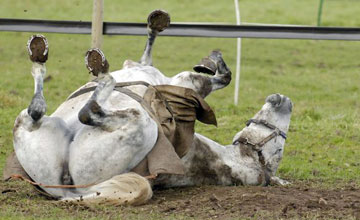 Monet's Garden: has been battling a life-threatening hoof infection
PICTURE:
DavidDew (racingpost.com/photos)
Monet's Garden able to take steps outside box
NICKY RICHARDS on Tuesday said that the condition of Monet's Garden remained largely unchanged although the popular former chaser was able to leave his box for the first timefor a while.
The 13-year-old has been suffering from a potentially life-threatening infection in a hoof which he contracted after winning at Aintree last October.
Since then he has been retired and over the past few weeks has been having treatment at Oaklands Veterinary Centre in Yarm, Cleveland, where Caroline Blackiston and a team of vets have been trying to eliminate the threat of further infection.
Despite having his dosage of painkillers reduced over the weekend, there was more upbeat news on Tuesday as Monet's Garden was able to take some steps outside his box.
Richards said: "He is steady and, although there is no general change, the vets were able to lead him out for the first time in a while. Caroline said he was okay so let's hope we don't have any backward steps.
Nicky Richards: "nice for him to be able to stretch his legs"
PICTURE:
Edward Whitaker
"It was nice for him to be able to stretch his legs and we are just hoping for the best."
The decision to reduce the amount of painkillers given to Monet's Garden was made over the weekend as it was feared that while alleviating his suffering, they could at the same time do damage to the internal organs of the brave front-runner who won 17 races in the colours of David Wesley Yates.
View Monet's Garden's glorious career in pictures with our special photo gallery