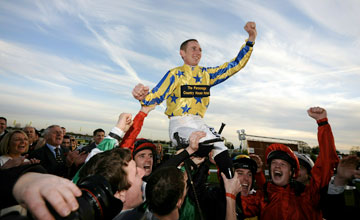 Flat jockeys: minimum weight has been raised 2lb to 8st
PICTURE:
Getty Images
Minimum Flat weight to be raised 2lb to 8st
THE minimum weight to be carried in Flat races in Britain is to rise by 2lb to 8st from 2013 in a move that reflects the rising weight of the population.

In the first change in Britain since 2001, the BHA has approved the increase as part of a series of measures aimed at assisting jockeys' welfare from January 1. There was unanimous support for the amendment from both jockeys' and trainers' representatives and it will be the third time the minimum riding weight has been raised since Dr Michael Turner became BHA chief medical adviser in 1992.

It still leaves Britain behind Ireland, Australia and the United States, where the minimum weight is either 8st 4lb or 8st 7lb, but in line with France, which also has an 8st minimum.

Turner said: "The initiatives being implemented in 2013 represent a significant forward step for the welfare of British jockeys. The rise in the minimum weight in Flat racing was an obvious step to take in view of the fact that the average weight of the British population is rising at a rate of 1lb every three years.

"Just as significant are the wider initiatives to assist young jockeys, in particular to maintain and ride at a weight that is suitable for their wellbeing. It was pleasing that racing was unanimous in its support of the proposals.

"British racing is fortunate in the level of care and support our riders receive from both the BHA and the Professional Jockeys Association, in the form of nutritional and health guidance. Fitness levels among British riders have improved significantly in the last two decades."

In 2004 Turner had argued for a rise to 8st 2lb. That was not carried through but the latest raft of measures includes weight monitoring, as a result of which a jockey's lowest weight, previously self declared, will be based on data from races.

Apprentice and conditional riders will be allocated minimum riding weights based on their measurements and will undergo bone scanning before a licence is issued or renewed.

"Research in Ireland and Britain has identified that low bone density scores are a potential problem for young jockeys," Turner said. "To enable jockeys to seek appropriate advice at an early stage, the BHA is introducing a programme of DEXA [dualenergy x-ray absorptiometry] scanning for apprentice and conditional jockeys."
Paul Struthers: positive changes
PICTURE:
Gerry and Mark Cranham
PJA chief executive Paul Struthers said the changes were "really positive". He added: "It was important to continue the holistic approach British racing has taken on this issue, as opposed to simply raising the minimum weight.

"The monitoring, bone density scanning, weight rise and race planning changes do just that and will bring benefits to all jockeys."

Trainer Mark Johnston said: "I think it was inevitable. There is no getting away from the fact that people are getting bigger. Provided the top weights don't go up there is still plenty of room between 8st and 10st to accommodate the handicaps."