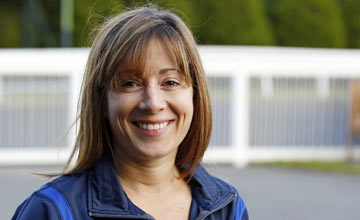 Hayley Turner was back in action at Lingfield on Friday
PICTURE:
John Hoy
Turner delighted after returning from injury

HAYLEY TURNER on Friday returned to the saddle for the first time since a fall at Doncaster in September left her with a chipped pelvis and three fractures to her back, finishing fifth and third on her two rides at Lingfield.
Turner, who began riding out late last month, was fifth on the Conor Dore-trained Greensward in the 1m handicap and made the frame on Glastonberry for Geoffrey Deacon in the 6f handicap.
She said: "I've had more comebacks than Rocky so should be used to it!
"I was a little bit nervous going out, only because I haven't ridden for so long.
"It's a big relief and I will just get the next couple of weeks out of the way and see what happens.
"I didn't feel as bad as I thought I would for fitness. I'm not 100 per cent fit again, but as fit as I can be - I've been riding out at James Fanshawe's for the last week and a half."
Turner, whose biggest win came on Dream Ahead in the July Cup in 2011, had been back riding only 12 days after a five-week layoff with a broken ankle when her mount Seal Of Approval clipped heels and fell in Doncaster's Park Hill Stakes in September.
She is back in action at Wolverhampton on Saturday night, riding George Fenton in the 7f handicap.