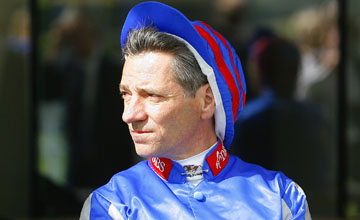 Michael Hills: "Everyone connected to the horse is very upset and sad"
PICTURE:
Mark Cranham (racingpost.com/photos)
Hills praises start team after Gray Pearl collapse
JOCKEY Michael Hills has praised the quick response and work of Newmarket officials at the start on Sunday to minimise stress and attempt to help his mount Gray Pearl, who was fatally injured before the Qipco 1,000 Guineas.
Hills, 49, said that he had never experienced an incident like the one on Sunday and said the speed which Gray Pearl collapsed surprised him, with no apparent problems in the moment before.
He said: "I would like to place on record my thanks to all those who helped in the treatmentof Gray Pearl. The pressure and tension at the start of a Classic, particularly one involving 18 fillies, is significant and yet everyone involved, from the stalls handlers to the vets and the starters, remained completely calm and professional throughout.
"In all my riding career I have never experienced an incident such as that which happened on Sunday. One moment the filly was standing quietly in the stalls and then all of a sudden she dived down and then did not, or could not, get back up."
Hills marked out the stalls team, who had to manoeuvre Gray Pearl from an awkward position under the starting gate, for special praise.
"The response from the starting team was immediate and I would like to pay particular thanks to the stalls handlers who not only looked after the filly, but also regularly checked on myself, as well as doing the not inconsiderable job of unloading the other runners and looking after them while the vets examined and treated Gray Pearl," Hills said.
"Everyone involved did all that they could to help her and then to minimise her distress as soon as the gravity of the injury became apparent."
He added: "Everyone connected to the horse is very upset and sad to have lost her. But the quality of care and professionalism shown by those who attended to her is some consolation and we are very grateful to all concerned."
Gray Pearl was euthanised after vets determined she had sustained a spinal cord injury.