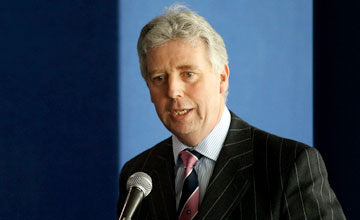 Edward Gillespie has spearheaded the success of Cheltenham since 1980
PICTURE:
Getty Images
Edward Gillespie to leave role as Cheltenham MD
EDWARD GILLESPIE, who has spearheaded the success of Cheltenham racecourse since 1980, is stepping down from his role as managing director.
Keen cricketer Gillespie, who will be 60 at the end of July, completed a century of Festival days in charge when the meeting closed last month.
"While part of me feels I could carry on for ever, I'm conscious that my sporting heroes have bowed out at the top of their game, carrying their bats, so to speak," he said on Tuesday.
"I've been here for a long time, so I'd love to get involved in other projects within sport or business over the last few years of my career.
"I've nothing in mind. I'lljust wait and see if anyone gets in touch."
Gillespie, who has been involved with various sports, leisure and cultural activities in Gloucestershire since his arrival from an initial six-year stint in racecourse management at Kempton and Sandown, is unlikely to be short of offers.
However, Jockey Club chief executive Simon Bazalgette stressed that he would not be lost to Cheltenham or the racecourse group.
He said: "Edward will help inthe process to appoint a successor, and when the time comes for him to stand aside, he will remain with the group as a consultant.
"He has been seen as a mentor of managers and there's a lot he can bring in that direction.
"We will definitely commit to using his experience and talent on various projects, including the next stage of redevelopment at Cheltenham."
Cheltenham chairman Robert Waley-Cohen said: "Over the past 30 years the Festival has developed into one of the great British sporting occasions and that is largely down to the energy, enthusiasm and expertise of Edward Gillespie."