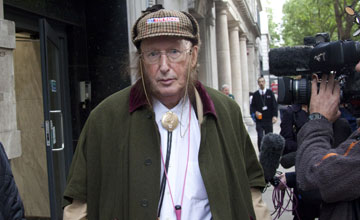 John McCririck: lost his age discrimination claim against Channel 4 and IMG
PICTURE:
National News and Pictures
McCririck loses discrimination claim
JOHN McCRIRICK has lost his £3 million age discrimination claim against Channel 4 and TV production company IMG Sports Media, the betting pundit revealed on Wednesday.
McCririck was seeking damages and compensation, or reinstatement to the role that for over 29 years made him one of the most recognisable personalities on television, after being dropped when IMG won the contract from Highflyer to take over Channel 4's racing output from the start of the year.
However, after a lengthy deliberation that started at the conclusion of the hearing on October 7, McCririck has revealed that the tribunal panel has found in favour of Channel 4 and IMG.
Reacting to the judgment, McCririck said: "This is an historic setback for all employees in their 30s to their 70s.
"After such a landmark judicial verdict, my failed legal action ensures that anonymous suits and skirts, who control the media, numerous other businesses and the public sector, will now enjoy complete freedom to replace older employees whatever their unimpaired ability and merit."
In a statement, he added: "I have let them all down along with my wife, the Booby, my legal team, friends, colleagues and countless members of the public who supported me throughout. My grateful thanks and apologies to every one of them.
"Former Labour home secretary David Blunkett MP said in August: 'The way TV executives worship the cult of youth seems to be an unstoppable fetish.' It is now."
Channel 4 successfully argued that McCririck was released because of his public persona, as crafted through his appearances on reality shows like Celebrity Big Brother and Celebrity Wife Swap, and that it was attempting to take its racing coverage in a more mainstream direction and did not consider he would appeal to a wider audience.
Explaining their findings in the judgment, the panel said: "All the evidence is that Mr McCririck's pantomime persona, as demonstrated on the celebrity television appearances, and his persona when appearing on Channel 4 Racing, together with his self-described bigoted and male chauvinist views were clearly unpalatable to a wide potential audience.
"The tribunal is satisfied that the respondent had the legitimate aim of attracting a wider audience to horse racing."
McCririck, who accused Channel 4 bosses of being age-obsessed and labelled the broadcaster's chief creative officer Jay Hunt a serial offender, had previously said he faced the threat of losing his home if failing in his action, having borrowed against the property to finance the legal battle.
Commenting for Channel 4, a spokeswoman said: "We welcome the unanimous verdict of the tribunal that John McCririck's claim fails and that Channel 4 did not discriminate on the basis of age.
"We are grateful to John for his contribution towards Channel 4's racing coverage over many years but disappointed that he decided to bring this claim."