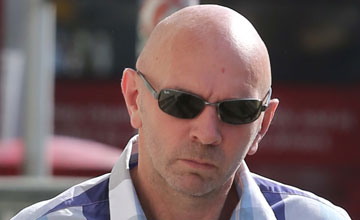 John McCracken: found guilty of fraud case at Lewes Crown Court
PICTURE:
Connors Brighton
McCracken gets four years for part in fraud
Warned-off punter John McCracken was jailed for four years on Wednesday over his involvement in a £5 million betting and tipping scam.

McCracken, 47, from Brighton, and his co-defendants, self-employed John Brice, 40 of Hove, and Matthew Thole, 40, a company director from Cardiff, were each found guilty of conspiracy to defraud between April 30 2003 and February 13 2008 following a trial lasting two-and-a-half weeks at Lewes Crown Court. All three denied the charge

Thole was also jailed for four years, while Brice received a five-year prison sentence.

A fourth defendant, Jeff Bloor was meant to be in the dock but has not answered police bail since his arrest.

The court was told a series mailshots under a variety of names - including John McCracken - were sent unsolicited to thousands of homes across Britain.

Some who responded were subsequently fooled into paying up to £10,000 as part of a bogus investment scheme involving the importation of horses from Australia, in what the prosecution described as a "follow-on fraud".

McCracken was effectively banned from the sport for life in 2004 after refusing to co-operate with a race-fixing inquiry.