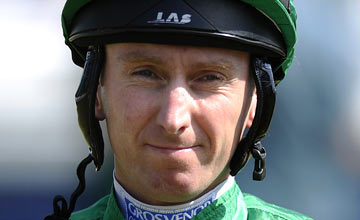 Martin Dwyer: will not be present in India for inquiry
PICTURE:
Getty Images
Dwyer and Mulrennan India inquiry resumes
THE saga surrounding race-fixing and betting allegations involving Martin Dwyer and Paul Mulrennan is due to resume in India on Friday, although neither of the jockeys will be present.
Instead the pair, who deny any wrongdoing, are still awaiting a response from the Royal Western India Turf Club, despite the Professional Jockeys Association sending two letters on their behalf seeking information about the investigation.
The two riders last month declined to return to Mumbai to be questioned over the affair, after which their offer to be interviewed in London was not taken up.
The RWITC stewards are scheduled to hold an inquiry based on an anonymously recorded CD in which, according to reports in India, Dwyer can allegedly be heard telling Mulrennan the horse he is riding the following day cannot win and that he planned to back the eventual winner, Icebreaker, ridden by David Allan, in the Eclipse Stakes of India, run at Mahalaxmi racecourse in February 2010.
However Dwyer, who has been out of action since his fall at Southwell a fortnight ago in which he was knocked out for six minutes, said on Thursday: "There is absolutely nothing I can tell you [about the case] because I don't know anything."
Mulrennan, who remains sidelined after suffering a punctured lung, broken collarbone and rib, facial injuries and concussion in a fall at Hamilton last September, is due to see his specialist next week with a view to returning to the saddle next month.
Dwyer continues to be troubled by a shoulder injury and will be clearer about comeback plans after he has been visited again by the PJA's medical adviser, Dr Anna-Louise Mackinnon.
The Derby-winning jockey said: "I've got to wait until I feel ready to take the concussion test, but I still have a problem at the joint where it joins the rib-cage and I've been told I've got to rest and give it time to come together.
"I have had a lot of dizzy spells, but I got lucky because it could have been an awful lot worse, and I am getting there now."