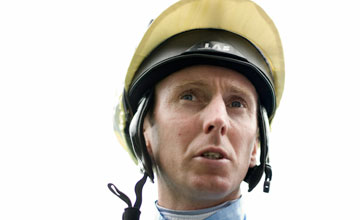 Dwyer initially picked up a 56-day ban for his ride on Ice Age in February
PICTURE:
Getty Images
Indian officials up Dwyer ban to eight months

A "CONFUSED" Martin Dwyer has vowed to fight a decision by the Royal Western India Turf Club to increase to eight months the ban he picked up in February following an appeal.
The Derby-winning jockey was told of the decision by his spokesman while riding at Wolverhampton on Monday but was waiting to receive official reasoning from India.
Dwyer had appealed against a 56-day suspension given to him by stewards who deemed he had not allowed short-priced favourite Ice Age to run on its merits in a finish that led to protests from angry racegoers.
"It seems like they have increased my suspension," Dwyer told the Racing Post on Monday night. "My spokesman has told me it's been increased.
"I don't know why or how but I'll have to wait for the official reasoning. I have 72 hours to appeal but I definitely will be appealing.
"I am confused because I'm still waiting to see anything official so I don't want to say anything until then but I will appeal."
If upheld, the ban will run from August 31 until April 30, 2014.
The race at Mahalaxmi in Mumbai on February 17 made headlines around the world after Dwyer reportedly had to be rescued by security guards as angry racegoers protested at his riding of Ice Age, the 6-4 favourite, who ran third.
Head-on pictures showed Dwyer's mount veering to the right in the closing stages and colliding with a rival, after which Dwyer pulled his mount away. When he began to ride out Ice Age in the final strides, the filly hung right again with Dwyer reporting her to have bled during the race.
Reaction on Twitter on Monday called for the BHA not to reciprocate the ban.
The BHA's media manager Robin Mounsey said: "We have only just heard the reports emerging from India. We will await further information from the Royal Western India Turf Club before making any comment."