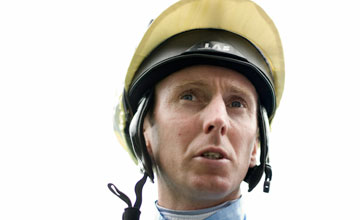 Martin Dwyer: racegoers surrounded the weighing room in protest
PICTURE:
Getty Images
Dwyer flees mob after riding beaten favourite
India: Jockey Martin Dwyer reportedly had to be rescued by security guards after angry racegoers at Mahalaxmi racecourse in Mumbai formed what was described as a "lynch mob" in protest at a ride he had given a beaten favourite.
The Derby-winning jockey finished a close third aboard 6-4 chance Ice Age in the final race on Sunday but the ride left a number of onlookers distinctly unhappy.
A view of the head-on shows his mount veering markedly to the right in the closing stages and colliding with a rival, after which Dwyer pulled his mount away. When he began to ride Ice Age out in the final strides, the filly hung right again.
Nevertheless, after the race, according to local press reports, racegoers surrounded the weighing room demanding the race be declared void. Officials from the Royal Western India Turf Club eventually declared Ice Age a non-runner and all bets on her were ordered to be refunded.
However, that did not mollify a large section of the protesters who stayed until late into the night before dispersing. Police were called to prevent the situation getting out of control.
Dwyer, who rode In The Spotlight to win the Indian Derby last year, is due to face a stewards' inquiry on Sunday and will be hoping there is no repeat of Richard Hughes's experience in India last year, when he received a 50-day suspension which was reciprocated by the BHA.
His agent Simon Dodds said: "Martin dismounted the horse shortly after the line because he felt something wasn't right. He did the right thing because the vets found that the horse bled quite heavily from the nose. And I believe the horse actually wobbled a bit after the race as well.
"The local stewards are going to have an inquiry about it on Sunday and Martin can't talk to the press about it until then, so you won't be hearing from him. But I would expect it will be cleared up then.
"There was a small bit of interference from his horse to one of the others and he might get a suspension for that, but it should be minimal, if anything."
Local newspaper Mumbai Mirror quoted RWITC's chief stipendiary steward Pradyumna Singh as saying: "The club's stewards have further asked us to immediately initiate an inquiry into this incident and, if possible, to submit them the report next Sunday."
A video of the race can be seen at rwitc.com.