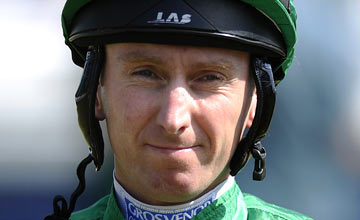 Martin Dwyer: jockey's 56-day India ban will not be reciprocated by BHA
PICTURE:
Getty Images
Dwyer succeeds in BHA appeal over India ban
A BHA disciplinary panel on Wednesday found in favour of Martin Dwyer when deciding not to reciprocate the 56-day ban handed to him by stewards in India.

The result draws to an end Dwyer's lengthy fight against the Royal Western India Turf Club's (RWITC) decision to ban him for his ride on beaten favourite Ice Age at Mahalaxmi racecourse in February.

The Derby-winning rider, 38, was hit with the suspension after the crowd at Mahalaxmi rioted when Ice Age, who had bled and raced erratically, was narrowly beaten. Ice Age was eventually declared a non-runner.

However, when Dwyer initially appealed the decision his ban was super-charged and increased to eight months although a subsequent appeal resulted in the original ban being reinstated, reportedly on the casting vote of the RWITC chairman.
The BHA disciplinary panel on Wednesday ruled that ban to be unjust and as a result Dwyer will not serve the 56-day punishment.
Jamie Stier, the BHA's director of raceday operations and regulation, said: "As signatories to the international agreement the BHA's starting point is to recognise the principle of reciprocation of penalties incurred by British riders abroad. However, this is in the expectation that the individual is afforded the tenets of natural justice.
"In this particular case, it was our view that these basic principles were not upheld by the RWITC and this was reflected in the BHA's presentation to the disciplinary panel.

"Consequently, the BHA supports the decision of the disciplinary panel not to reciprocate the suspension imposed by the RWITC on Martin Dwyer.

"It was the BHA's view that there were a number of areas during the process which fell short of being demonstrably fair and were not in accordance with the principles of natural justice. One such example being the decision of the RWITC stewards to make a finding that Ice Age had not been run on her merits and declare her a non-runner, before conducting an enquiry and hearing from Martin Dwyer.

"We will be sharing with the RWITC the concerns the BHA set out to the disciplinary panel."
Paul Struthers, chief executive of the Professional Jockeys Association, said: "On behalf of Martin Dwyer, we are obviously delighted that the disciplinary panel has ruled that the 56-day suspension imposed by the RWITC will not be reciprocated.

"The decision not to reciprocate the suspension brings to an end to what has been a particularly stressful and worrying period for Martin and his family. Martin is thankful to everyone who has expressed their support and particularly to Graeme McPherson QC who represented him."