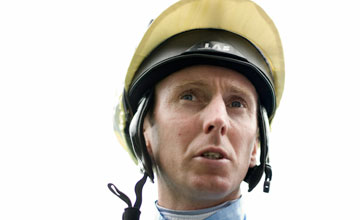 Martin Dwyer: took crashing fall at Southwell on Saturday
PICTURE:
Getty Images
Dwyer groggy as he continues recovery
MARTIN DWYER was recovering at home on Saturday following Friday's crashing fall at Southwell that left him unconscious for six minutes after the force of the impact split his helmet.
While her 2006 Derby-winning husband and father-of-two rested in bed, his wife Claire was counting the family's blessings that the consequences had not been much worse.
She said: "Martin's a bit better, but he's not great and still a bit groggy."
Dwyer looked set to make his first mount of 2014 a winning one when Columbian Roulette took a three-length lead into the final furlong of the opening mile handicap before jinking unexpectedly and unseating the rider.
Dwyer had regained consciousness before being taken to the Queen's Medical Centre in Nottingham, where he was later discharged after undergoing a battery of tests.
Claire Dwyer said: "Martin can't remember anything about the fall, but he was knocked out for six minutes which is worrying enough in itself.
"Luckily I didn't see it and didn't know anything about what had happened until I got a call and went to the hospital.
"We have watched the race several times and Martin hit the ground with his legs and then flipped straight over and struck the right side of his head, which cracked the helmet.
"Fortunately all the scans were clear and there was no bleeding on the brain or anything like that. He also had neck and back scans which were clear, but he might have broken a collarbone, which is very sore today."
She added: "Everybody involved at the hospital were brilliant and they all looked after Martin really well, but I'm incredibly happy to have him home."
Provided no fresh injuries emerge, Dwyer could be out of action for up to three weeks, although he will need to consult the BHA's chief medical adviser Dr Michael Turner and undergo a concussion test before returning to the saddle.
His wife added: "Martin has been told to rest and not to over-stimulate his brain so he is not to use the telephone or watch TV, although being a big football fan whether that will happen when there are matches on TV remains to be seen."