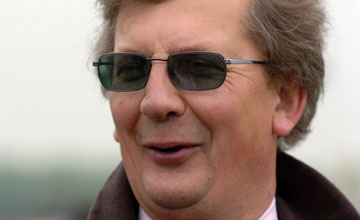 Mark Tompkins: head of the Newmarket Trainers Federation
PICTURE:
Martin Lynch (racingpost.com/photos)
Tompkins: BHA should act quickly over Sungate

THE head of the Newmarket Trainers Federation Mark Tompkins thinks the BHA should get the Sungate scandal "over and done with" in the wake of Clive Brittain's admission that a handful of his horses have been treated with the banned drug.
Tompkins wants racing to move on, rather than have to deal with negative headlines due to individual revelations to newspapers from trainers that they are among the handful in Newmarket known to be caught up in the anabolic steroid issue.
Brittain's fellow trainer Gerard Butler has recently being charged on seven counts, while Mahmood Al Zarooni was banned for eight years.
Clive Brittain: says a handful of his horses were treated with Sungate
PICTURE:
Edward Whitaker
The BHA investigation into use of Sungate, which contains the banned steroid stanozolol, is still ongoing despite letters on the matter to trainers being sent out by the BHA in March.
Brittain has admitted that the drug was used on five or six of his horses that were out of training last winter, but said they were treated on the recommendation of his vets Rossdales, whom he retains faith in.
He said on Tuesday: "We had a few two-year-olds last winter who had quite serious injuries and they were treated with Sungate by our vets, as they said it would help their recovery. The use wasn't continuous and it was used on perhaps five or six who were out of training."
Brittain, who has an isolation yard at his Carlburg Stables on Newmarket's Bury Road, added: "I have been a client of Rossdales for a number of years and I have a lot of respect for the firm. Sungate hasn't been used in training and I only go on what the vets tell me."
Tompkins understands the BHA have a job to do but is keen for the sport to draw a line under the episode as quickly as possible. He said: "All trainers had a letter about Sungate in March and anyone who has used it since then must be stupid. If all the investigations are about previous use, I hope the BHA can get it over and done with as quickly as possible as racing needs some positive headlines."
He added: "I have never used Sungate but I use Rossdales and I have no problem with them. A few people have come out and said they have used it in the past when it has been recommended.
"What we need now is a level-playing field. A worldwide ban on steroid use would be great but we need to put our own house in order first and quickly."