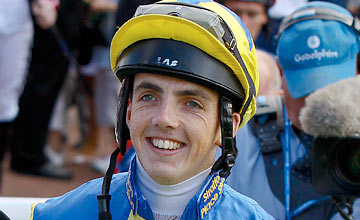 Martin Harley: "It's the sort of job everyone dreams about"
PICTURE:
Mark Cranham (racingpost.com/photos)
Harley lands plum job as Botti's first stable jockey
MARTIN HARLEY is looking forward to an exciting new chapter in his blossoming career after being appointed stable jockey to the powerful Marco Botti yard in Newmarket for 2014.
The 24-year-old, who will be Botti's first stable jockey, finished unplaced on the trainer's Guest Of Honour in the Grade 1 Arlington Million in Chicago last month. He also partnered Sugar Boy for him in the Listed race at Goodwood on Wednesday.
Harley is to leave his current post as first jockey to Mick Channon over the winter and move to Newmarket, where he has been offered a retainer to have first pick of around 100 horses at Botti's new premises at Prestige Place.
His new role bucks the recent fashion of owner-driven appointments, such as James Doyle and Frankie Dettori, who have agreements to ride for Khalid Abdullah and Sheikh Joaan Al Thani.
Botti said: "We are delighted Martin has accepted our offer and we look forward to working together more closely in the future. We haven't been big enough to retain a jockey before now, but as we have expanded the owners were keen to do it as we were having to change our riding arrangements so often."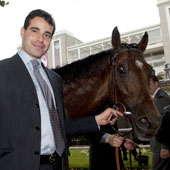 Marco Botti: "delighted" to secure the services of Harley
PICTURE:
Edward Whitaker
He added: "It is for a year to start with and Martin will be moving to Newmarket to come and start to get to know the two-year-olds in the coming weeks. I would expect he would ride a bit for us and a bit for Mick Channon in that period, and it will be great to have him around in the mornings."
Harley has ridden 11 winners for Botti so far this year, while Adam Kirby has ridden more often for the trainer than any jockey, partnering 15 winners from 100 rides. Andrea Atzeni is also a regular for Botti and has 12 victories for the trainer this year from 70 rides.
Botti has been a big supporter of Kirby - who also rides a lot for Clive Cox and David Evans - in recent years and insists there has been no fallout with him, saying: "We will continue to use Adam, but he weighs 8st 13lb whereas Martin can ride lighter than that, which gives us options."
Harley moved to Channon's from Ireland in 2010 and was crowned champion apprentice a year later. He went on to enjoy his first Classic success on the stable's Samitar in the Irish 1,000 Guineas last summer - which was also Channon's debut Classic win.
The jockey said: "It's the sort of job everyone dreams about and I can't believe what has happened to me over the last three years. I was champion apprentice in 2011, won my first Classic in 2012 and now a year later stable jockey to Marco."
Harley added: "It was a big surprise when Marco asked me. Mick was very good about it and said it was something I couldn't refuse. I wouldn't have been in a position to take such a job if he hadn't given me a chance. It's a dream job for anyone as Marco is on the up."
Channon, for whom Harley has ridden 91 winners, said: "I told Martin he had to take the job as it's a great opportunity to travel the world. He has been great for us but we don't have the Group 1 horses any more since we lost Samitar. I'm delighted for the lad and I hope it works out.
"Martin was acting first jockey for us but we won't replace him as we have some promising apprentices, such as Charles Bishop, coming through and this may give them a chance to shine."