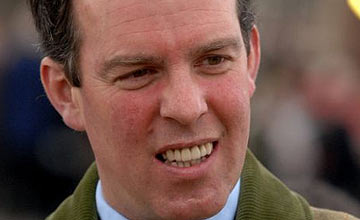 Tom George describes new recruit Mail De Bievre as 'particularly exciting'
PICTURE:
Martin Lynch
George hopeful Mail is a live Gold Cup contender
MAIL DE BIEVRE may not be a name familiar to many, yet, but he could be the winner of the 2013 Betfred Gold Cup according to his new trainer Tom George, who has lofty ambitions for the eight-year-old from France.
A best-price 66-1 with the sponsors, those odds could come tumbling down if the trainer's prediction of a big run in the Denman Chase on February 9 on his first start since switching from the care of Jehan Bertrán de Balanda.
Mail De Bievre has won five of his 13 starts, including an eight-length success in the Grade 2 Prix Murat at Auteil, when justifying 7-10 favouritism, on his second last start. That was April 2010, and despite just one run since, when fourth in a conditions race back at Auteuil in September 2011, George is confident that all his ability remains in tact.
Speaking in Wednesday's Weekender, he said: "Mail De Bievre is particularly exciting and has amassed over £300,000 in prize-money during his career in France. His latest win in April 2010 had a first prize in excess of £95,000 and had he not been injured, would almost certainly have been odds-on for the Grand Steeplechase de Paris.
"He has come to us from connections we have done well for over the years. He hasn't run for over a year, but he has been here for a while now and I am very pleased with his progress. He arrived in excellent condition having been in pre-training with Chloe Roddick."
On plans for the gelding, George added: "The plan is to start him off next month at Newbury in the Denman Chase. He has schooled well at home and impressed Paddy [Brennan], and to be honest he ticks all the boxes.
"Obviously we are hoping he comes through the Newbury run well as the Gold Cup would be a cracking target for him. He has had one day away from home and I am hoping to get him out again for a racecourse gallop shortly.
"At one stage he had a rating of 172, but not having run for a while, he is down to 160,which looks great, although handicaps are not on his agenda.
"We have given him plenty of schooling over British fences, as they are stiffer than their French equivalent, and he jumps like an British chaser. He doesn't seem a particularly stuffy horse so I would be looking for a big run at Newbury and if all went well, then the Gold Cup would be the target."
Read more from Tom George on all his stable stars, including Baby Mix, Big Fella Thanks, Crack Away Jack, Nacarat and Olofi, only in Wednesday's Weekender.