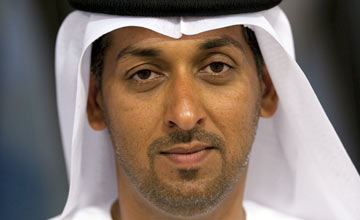 Mahmood Al Zarooni: "I have made a catastrophic error"
PICTURE:
Edward Whitaker(racingpost.com/photos)
Shock as Al Zarooni stars test positive for steriods

GODOLPHIN trainer Mahmood Al Zarooni faces the loss of his licence after admitting being in breach of the rules of racing following the discovery of anabolic steroids in samples taken from a number of his horses including top-class filly Certify.
The unbeaten Group 1 winner will not now be allowed to run in the Qipco 1,000 Guineas at Newmarket on May 5 for which she was a 7-1 fourth favourite.
"This is a dark day for Godolphin," said racing manager Simon Crisford.
Following an inspection of Al Zarooni's stables at Moulton Paddocks in Newmarket by officials from the BHA, traces of prohibited substances were discovered in a number of the horses tested, including Certify, who was removed for the 1,000 Guineas betting.
Al Zarooni, winner of the world's richest race thanks to Monterosso's 2012 Dubai World Cup victory, has admitted that he was responsible for the administration of the prohibited substances.
Crisford said: "We are all shocked by what has happened. His Highness Sheikh Mohammed was absolutely appalled when he was told and this is completely unacceptable to him."
Godolphin said it would will await the outcome of the BHA inquiry before taking any further internal action.
"Sheikh Mohammed has instructed me to begin an urgent review of all of our procedures and controls," added Crisford. "That is already underway and we will take advice from the BHA in completing it."
In a statement, Al Zarooni said: "I deeply regret what has happened. I have made a catastrophic error. Because the horses involved were not racing at the time, I did not realise that what I was doing was in breach of the rules of racing. I can only apologise for the damage this will cause to Godolphin and to racing generally."
A BHA statement revealed that a total of 11 horses including Certify have been suspended from running as the result of a 'testing in training' sampling programme conducted. A total of 45 horses were tested on April 9 during a random visit that the BHA said arose from two positive tests on Al Zarooni horses in the previous 12 months.
It was only on Monday that the BHA received written advice from the Horseracing Forensic Laboratory that, upon analysis, 11 samples had present in them one of two prohibited substances, ethylestranol and stanozolol.
Desert Blossom, Certify, Fair Hill, Ghostflower, Orkney Island, Sweet Rose and Valley Of Queens tested positive for ethylestranol and Artigiano, Bathrat Amal, Opinion Poll and Restraint Of Trade tested positive for stanozolol.
Adam Brickell, director of integrity, legal and risk for the BHA, said: "Ethylestranol and stanozolol are anabolic steroids and therefore prohibited substances under British rules of racing, at any time - either in training or racing. Mahmood Al Zarooni has been advised of the analysts' findings and has been visited by an investigating officer.
"A disciplinary panel enquiry into the analysts' findings will take place at the first available opportunity, confirmed details of which will follow when available. The horses which have produced positive tests will also not be permitted to race with immediate effect and for an extended period of time. As part of the ongoing process a decision will be made as to what period this suspension will be imposed for.
"The BHA understand the importance of this process being carried out as quickly as possible because of implications for betting markets."
Ladbrokes shortened Hot Snap in both the Guineas (3-1 from 4) and Oaks (8-1 from 10) markets. They also cut Just The Judge and What A Name (both 5-1 from 6) and Maureen (10-1 from 12) for the Guineas. BetVictor will refund all bets on Certify in the 1,000 Guineas ante-post market.
Trainer Howard Johnson received a one-year ban for administering anabolic steroids to horses in training, an action that the BHA disciplinary panel concluded "seriously prejudiced the integrity and good reputation of horseracing in Great Britain".
Al Zarooni's career with Godolphin has been a significant success, bringing wins in the 1,000 Guineas, Irish Oaks, St Leger and at Royal Ascot in addition to Monterosso's World Cup triumph.
He was approached by Sheikh Mohammed having impressed as assistant to UAE champion Ali Rashid Al Raihe and subsequently to Mubarak bin Shafya, having first worked among Arab horses with Rod Simpon.