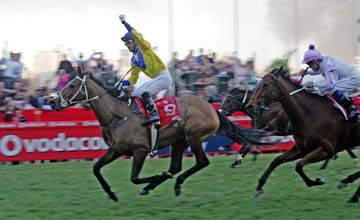 Igugu: picked up a respiratory infection which rules her out of Grade 1
PICTURE:
www.goldcircle.co.za
De Kock's 1-5 shot Igugu out of Paddock Stakes
South Africa: Horse of the Year Igugu, as short as 1-5 for the TBA Paddock Stakes, has been scratched from Saturday's Grade 1 Kenilworth test after picking up a respiratory infection.
There is also a doubt about her running in the J &B Met on January 28 and she is 6-4 favourite for that.
She pulled up coughing after an exercise gallop on Monday and mucopus was found in her trachea.
Trainer Mike de Kock said: "The respiratory infection is not serious, horses normally recover quickly and we've treated her with antibiotics.
Mike De Kock: trains Igugu
PICTURE:
Mark Cranham
"We would still love to run her in the Met but we have to take caution all the same. We will make a decision at the end of the week because her participation will have a big impact on the betting. We will makesure that punters know exactly where they stand."
Local firm Betting World have suspended all betting on the Met.
De Kock was critical of the final declaration stage being so early (last Thursday) and said:"We are now left with a field of six runners in the Paddock Stakes and this doesn't do the race justice at all.
"More runners would have stood their ground if Igugu wasn't accepted. If trainers were allowed to accept during this week, as they do in most jurisdictions overseas, this would not have been an issue.
"Those who pulled their runners out because Igugu was in the race would have left them in to contest the event."