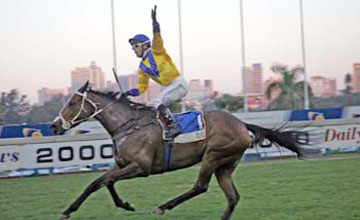 Igugu: among 14 horses who made the five-hour flight from Cape Town
PICTURE:
Gold Circle
Igugu heads De Kock's Dubai team into isolation
SOUTH AFRICA'S horse of the year Igugu has arrived in Mauritius on the second leg of a journey intended to take her to next year's Dubai World Cup, via Newmarket.
The daughter of Galileo was among 14 blue-blooded thoroughbreds who made the five-hour flight from Cape Town, following 20 days of quarantine, and are housed at the secluded site overseen by the local Ministry of Agriculture at Poste Lafayette on the east coast of the Indian Ocean island.
Strict conditions imposed by protocols relating to African Horse Sickness, which is endemic in South Africa, mean the group will undergo 90 days' quarantine before being shipped to England for a further 30 days' isolation.
Mike de Kock: frustrated
PICTURE:
Mark Cranham
Around the end of October a dozen members of the touring party, mainly owned by Sheikh Mohammed bin Khalifa and Sheikh Hamdan, will form the backbone of trainer Mike de Kock's squad for the 2013 Dubai World Cup Carnival.
The other two - South Africa's top sprinter Val De Ra, who is destined for stud and a possible first date with Galileo, and the Grade 1 Horse Chestnut Stakes winner Dancewiththedevil, for whom a Newmarket-based trainer is being sought - will stay behind.
De Kock's displeasure with the lengthy and complicated travel arrangements imposed by quarantine restrictions prompted him to reduce the number of top horses he took from his native South Africa to Dubai for this year's festival.
Instead, Igugu remained on home soil, and in January she won the J&B Met in Cape Town to give De Kock his third success in the Grade 1 race but first for 12 years.
Now, though, expediency has triumphed over principle, and with Igugu shortly turning six to southern hemisphere time, De Kock has decided he cannot afford to wait another year.
Before the squad went into quarantine he said: "For Igugu and others to be able to compete internationally, we have no choice but to make early arrangements to get them out as soon as we can. It's ridiculous, but we can't take the chance of waiting until after the Durban July."
De Kock will still have a clutch of runners in the July a week on Saturday, including Ilha Bela and Vettel, who will vie for second choice in the betting behind hot favourite Jackson.
However, Igugu was never entered for Greyville's biggest race of the year, and she has been joined in Mauritius by last season's dual Grade 1 winner The Apache, who ran sixth in this year's J&B Met and could have an engagement in Hong Kong, where one his part-owners lives, in December.
As well as a number of good winners owned by Sheikh Hamdan, including smart two-year-old Soft Falling Rain and Mushreq, De Kock's Dubai team will include Shea Shea, whom he has taken over from Geoff Woodruff.
Shea Shea's all-the-way win in her last race, the Grade 1 Computaform Sprint at Turffontein at the end of April, suggested she could assume the mantle of top South African sprinter from Val De Ra.