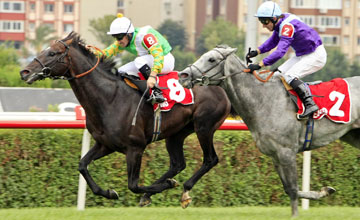 Pressing (8): claimed a third victory in the Topkapi Trophy under Neil Callan
PICTURE:
Turkish Jockey Club
Pressing lands Topkapi Trophy hat-trick

Report: Turkey, Sunday
Veliefendi: International Topkapi Trophy (Group 2) 1m, 3yo+, turf
PRESSING (Michael Jarvis/Neil Callan) completed a hat-trick in the Topkapi Trophy in Istanbul on Sunday, when he led home a British-trained 1-2-3 with a hugely popular victory in the richly endowed Group 2 event.
The result proved a carbon copy of the 2009 running as the seven-year-old held the closing lunge of Dream Eater to claim the €459,000 contest, in which the Luca Cumani-trained Mabait finished third.
Trainer Michael Jarvis stayed at home in Newmarket, thereby missing a victory that sparked scenes of jubilation among an enthusiastic Istanbul crowd, who have taken Pressing to their hearts after four successive visits to the nation's showpiece racing occasion.
They also backed him into odds-on favouritism at approximately 4-6, which helps explain the tremendous reception accorded to Neil Callan, who saluted the crowd and held up three fingers to signify Pressing's feat and then high-fived the racegoers who mobbed him after the race.
"It is great to come out here – they love the horse," said an exultant rider. "He is an amazing horse, and Michael's done a fantastic job to produce him every time in tip-top condition.
"He'll be turning eight soon but unless he gets a position as a stallion there's no reason why he shouldn't come back again unless he tells us he doesn't want to."
Pressing's winning margin may have been dwindling – about a neck compared to a head in 2009 - but this was a much more emphatic victory for Gary Tanaka's son of Soviet Star.
Michael Jarvis: great training feat
PICTURE:
Mark Cranham
Settled just off the pace in perfect stalking position by Callan, he was asked for his effort just after turning for home and took a couple of lengths out of his rivals at the furlong marker in what was the decisive move.
Dream Eater missed the kick and was dropped in towards the rear by Jimmy Fortune before moving quickly through the field after turning for home. However, his closing effort was unavailing; he was always held by Pressing, whose rider felt he had more to give in any event.
"He was idling there at the end," smiled Callan. "But he has a change of pace – for 100 yards he can take three lengths out of the field."
Pressing came to Istanbul after an interrupted preparation, having had a sore foot after winning a Group 2 event in Milan in May.
He was only seventh of nine last month in the Group 3 Sovereign Stakes at Salisbury. "I thought he'd have the class to win anyway but he'd missed lots of work and it was very much a prep," explained Callan. "At least he had a blowout and it put him spot-on for this."
Although heavy rain had turned the official ground descriptionto soft, Callan reported that it wasn't really anything like soft ground as might be understood at home.
"I wasn't concerned about that," said the jockey. "He has won Group races on heavy ground but really he can't have it fast enough.
"He likes to have a bit of daylight, to get into a bit of room and get into a rhythm, I was worried there might not be any pace as I didn't want to make the running but we got a nice position.
"But then when I started easing him up the other horse in front of us started hanging out for a stride or two but we got past okay."
Dream Eater's trainer Andrew Balding looked choked after another narrow defeat to the same horse. "It's high time he was retired!" he laughed.
"It is depressing but really I'm very pleased with Dream Eater," he added. "He hasn't won for 12 months but he's won well over half a million now and he's still got a couple of yearsleft.
"He has to be ridden like that, covered up with something to aim at. I thought for a second he was going to get there but Pressing is a pretty tough horse to pass."
Mabait looks set for a winter stint at the Dubai Carnival after a solid effort under Kieren Fallon.

"He ran brilliantly considering that he has been beaten only by two much more experienced horses who are well used to travelling and this was hisfirst time away," said Matt Cumani, representing his father Luca.

"He is still improving – he's small but perfectly made and just the sort of horse for Dubai. He has a great turn of foot but the ground was a bit loose for him."

Neither of the Godolphin pair, Frozen Power and Invisible Man, was able to land a significant blow and finished well down the field.