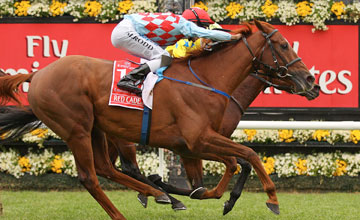 Dunaden (far side) gets the better of Red Cadeaux in the Melbourne Cup
PICTURE:
Getty Images
Dunaden denies Red Cadeaux in Melbourne

Report: Melbourne, Tuesday
Flemington: Emirates Melbourne Cup (Group 1) 2m, turf, 3yo+
IN one of the most thrilling finishes in the history of the Melbourne Cup, Dunaden (Mikel Delzangles/Christophe Lemaire) touched off the Ed Dunlop-trained Red Cadeaux to claim a second successive victory for France in Australia's most celebrated race.
Last year's winner Americain, the 4-1 favourite, finished fast and wide to just miss third place as the two principals flashed past the post in unison after a fierce battle in the final furlong, neither horse giving any quarter in the drive to the line in front of a crowd of 105,979.
Red Cadeaux hit the front inside the final furlong only to go down by a whisker as Geelong Cup winner Dunaden fought back in determined fashion under Christophe Lemaire, who was a late replacement for the suspended Craig Williams.
The photo looked too close to call and nobody would have been surprised if the A$6 million event had ended up in a dead-heat but after a lengthydeliberation Dunaden was called the winner by a pixel. Or, to use the official margin, a nose.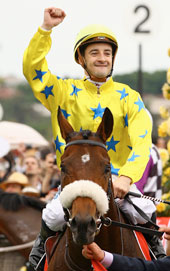 Christophe Lemaire and Dunaden
PICTURE:
Getty Images
"I'm still shaking - it's amazing," said Mikel Delzangles, who trains the winner for Qatari Sheikh Fahad Al Thani under his Pearl Bloodstock banner.
"I thought I was beaten so it's even better. It is an amazing thrill - just amazing. I can't say much!"
Lemaire got the ride on well-fancied Dunaden, who returned a 15-2 chance, only after Craig Williams was ruled out owing to a careless-riding suspension sustained last week at Bendigo.
Williams had ridden the five-year-old son of Nicobar at Geelong and his last-minute attempt to force a stay of proceedings failed in the Melbourne courts on Monday, when Lemaire arrived from Japan.
Delzangles acquired Dunaden as part of the consignment left behind by Richard Gibson when the trainer left France to go to Hong Kong at the start of the year.
He has since won a pair of Group 3 contests for Delzangles before Tuesday's victory, which meant he became the fifth international winner of the Melbourne Cup.
"I would like to have a thought for Craig Williams who should have been on the horse," added Delzangles, who was formerly assistant to Americain's trainer Alain de Royer-Dupre. "He did a great job in preparation for the horse at Geelong and he has been a gentleman."
Lemaire held Dunaden up towards the rear beforemaking smooth headway over two furlongs out and was then driven to hold off Red Cadeaux.
Kissing the skies and punching the air, Lemaire was in emotional mood after landing the most lucrative prize of his career on the ultimate chanceride - albeit one he had ridden twice in France.
"It's incredible - it's a great moment for me," Lemaire said. "I was a bit anxious as I knew it was very close. But I feel very sorry for Craig. He's a good friend of mine. I know it's very hard for him but it's part of a jockey's life and I'm sure he'll win the Melbourne Cup one year.
"There are no words for this," added the jockey. "I want to thank everybody for the emotion and the passion they have. It is my first time in Australia but I love Flemington.
"You know, races like the Japan Cup, Breeders' Cup, Epsom Derby and the Melbourne Cup - these are the big ones everybody wants to win.
Looking at the race he said: "They went very slowly in the beginning but on the back straight we started to go a bit faster and I was always confident. The horse in front of me was going really well and it brought me to the front very easily."
Ed Dunlop, for his part, must have had mixed emotions after 30-1 shot Red Cadeaux ran such a brilliant race, only to suffer agonising defeat on the head-bob under local rider Michael Rodd.
"We're very proud of him," said Dunlop, who gave his jockey a consoling arm around the shoulder in the unsaddling enclosure.
Dunlop added: "I thought he wouldn't like the ground and with a little more juice in the ground he'd have beaten the other horse. It was a great ride from the jockey - it took a lot of nerve to be that far back in a slowly run race but he hit the front a furlong out and the other horse came back at him."
Ed Dunlop: trains Red Cadeaux
PICTURE:
Edward Whitaker
Dunlop said he thought Red Cadeaux had just been beaten. "I was standing next to Luca Cumaniand he said 'you've won, you've won' but the best I could hope for was a dead-heat. The longer it took, the more hopeful I got!
"This has been a great experience - of course it is frustrating to get beaten on the nod but I've never had a runner here before and if he's okay we'll be back next year."
Rodd, who won the Cup in 2007 on Efficient, also realised he had been chinned. "When the other horse is finishing off, they normally get the verdict," he said. "He's run really well - I've got to take hat off to Ed Dunlop for travelling the horse here.
As many local pundits had forecast, international visitors largely dominated the A$6 million event.
The ex-German Lucas Cranach could not match the finishing kick of the first two as he claimed third. He was a length and a quarter behind Red Cadeaux, just ahead of last year's winner Americain.
Americain, who had torn off a shoe in morning exercise, finished fast and wide for fourth after racing miles back throughout the 2m event.
"I would say the ground was a bit firm for him, as well as the weight was maybe too much," said Gerald Mosse. "I was never really comfortable and he didn't travel through the race as well as he can.
"He gave me a good acceleration in the straight but he started to get tired in the last 50 metres with the weight and the ground. He's very honest and tried his best."
Manighar, who led briefly in the straight, took fifth for Luca Cumani ahead of Godolphin's Lost In TheMoment and the Mark Johnston-trained Fox Hunt.
Of the other British-trained contenders, Drunken Sailor was 12th after failing to stay, while the Brian Ellison-trained pair of Moyenne Corniche and Saptapadi were 15th and 16th.
Jukebox Jury finished lame after beating just three home and Modun was last.
"We'll just have to come back again next year - Manighar has run very well but I said all along Dunaden will win," said Cumani, whose Drunken Sailor failed to stay in 12th.
"He was travelling well but just didn't get home - 3,200 metres is too far for him," added Cumani, who admitted to frustration that Bauer had missed the cut by one.
Ironically, the race went off one horse short of the 24-runner limit when Mourayan was scratched in the morning, lame on his off-fore - but there is no system for allowing reserves to move into the race in such an event.
Cumani said: "Given the Geelong Cup result and the way Bauer ran there, you've got to say that if he had been there in the straight he would have given the winner something todo.
"They should look long and hard at the 'emergencies' here. We can send a man to the moon so we should be able to get an emergency in the Melbourne Cup."
Mark Johnston felt the race hadn't suited Jukebox Jury, who beat only three home.
"Obviously I'm very disappointed with him but Fox Hunt has run a great race," said Johnston.
"What we've learned is that, as we predicted, Jukebox had to be ridden hard to get a position early - all the horses who were up there early were down the field in the end.
"If you just saw the closing stages your first impression would be that Jukebox didn't stay but it was a furious race for the first four furlongs and those horses who appeared to be travelling well didn't get home. Maybe with hindsight we shouldn't have tried to get a prominent position; maybe we should have let him run his own race.
"Fox Hunt was right there," added Johnston. "He was struggling to get a position early on and had to tuck in towards the back and then hit his flat spot in the middle of the race before running on really well."
Saeed Bin Suroor was understandably disappointed with Modun. "He was too free in the race and it was too far for him.
"Lost In The Moment ran very well and for a second I thought he might be getting there but it didn't happen. A faster pace would have suited both horses better," he added.