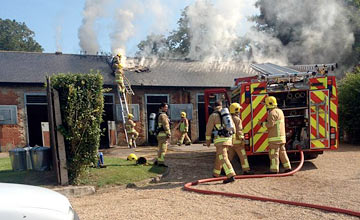 Bedford House: fire fighters quick to respond to stables blaze
PICTURE:
Olly Williams
Cumani praises fire fighters after stable blaze
LUCA CUMANI praised the swift actions of the emergency services after they reacted quickly to avert a major disaster when a fire broke out at his yard on Monday morning.
Cumani, who has more than 110 horses in his care at his Bedford House Stables on Newmarket's Bury Road, said that all of his employees and horses had escaped injury after the fire occurred in part of his training complex.
The trainer tweeted: "This morning's fire in the 'Top Ten' boxes is now almost under control. All horses and people are OK.
"Huge thanks to Suffolk Fire & Rescue for an incredibly quick response and effective action."
Cumani is enjoying a successful season with 32 winners so far this season, and he is once again set to launch a strong challenge on the Emirates Melbourne Cup with ante-post favourite Mount Athos and Quest For Peace being readied to enter quarantine later this month.