John Oaksey: was described as a "truly great gentleman" by Tony McCoy
PICTURE:
Jay Vincent
Tributes pour in for racing legend Oaksey
THE racing community has been paying its respects to racing legend John Oaksey, who passed away aged 83 on Wednesday.
RELATED LINKS
Lord Oaksey earned a special place in the hearts of racing fans during a life in which he triumphed as an amateur jockey, journalist, author, broadcaster and tireless charity worker.
Oaksey died peacefully at home on Wednesday morning following a long illness and friend and Racing Post journalist Brough Scott said: "He was a special man and I was so, so lucky to know him. He wasn't that technically good as a rider but he got competent and didn't fall off them in a hurry.
"He was in the very best sense of the word an amateur. He loved it and loved riding. He was one of the great enthusiasts.
"The two things he was world class at were writing and public speaking. He will be rightly remembered as a quite extraordinary chronicler of racing events.
"His account of the Grand National when he got beaten in the last strides [on Carrickbeg in 1963] I think that report is - and I say it carefully - the greatest single piece of first person big sporting event narrative in the English language.
"He broke the mould. He brought writing about racing to new standards and he made racing look after its own."
Among Oaksey's many contributions to racing was to help establish the Injured Jockeys Fund in 1964 and Jack Berry, vice president of the IJF, fondly remembered the charity's patriarch.
"It's a very, very, very sad day," Berry told At The Races. "He was a star man in very respect and he worked tirelessly for the IJF.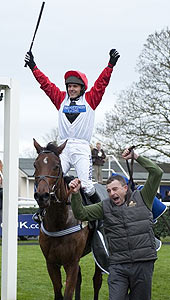 Carruthers: won the Hennessy Gold Cup for Lord Oaksey last year
PICTURE:
Edward Whitaker (racingpost.com/photos)
"I can't speak highly enough about him. He was a gentleman to deal with and thoughts go out to [wife] Chicky and [daughter] Sara."
Racing personalities took to Twitter to express their sadness at the passing of Oaksey.
Champion jumps jockey Tony McCoy called Oaksey "a truly great gentleman" while trainer David Pipe wrote: "So sorry to hear of the passing of Lord Oaksey who did so much for our sport. Our thoughts are with his family."
Paul Struthers, the head of the PJA, said that Oaksey House in Lambourn, which provides accommodation for injured riders, is a lasting monument to Oaksey's memory.
He said: "Oaksey House stands as a monument to his achievements in racing and testament to all he has done for the welfare of jockeys.
"He will be remembered with great affection, not only by those who were privileged to meet him but also by countless others who enjoyed his sharp intellect and warm approach as a writer and racing broadcaster."
Oaksey enjoyed his last moment in the spotlight when Carruthers, the horse he bred and owned, won last year's Hennessy Gold Cup at Newbury for son-in-law Mark Bradstock.
Carruthers was partnered at Newbury by Mattie Batchelor, who told At The Races: "It's a great loss to racing. When I first started riding for Sara and Mark he was around the yard a lot and to listen to his knowledge of racing and the old stories was amazing.
"Carruthers was his baby. He didn't register the other foals as much as Carruthers as he wasn't himself. Every time he went racing and saw his colours that gave him a boost. I'd like to send my condolences to the family."