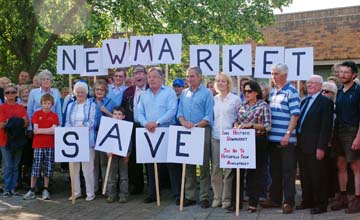 Hatchfield Farm: councillors voted unanimously to reject Lord Derby's plan
PICTURE:
Emma Berry
Lord Derby's Hatchfield Farm plans rejected
NEWMARKET'S racing community is celebrating after Lord Derby's highly controversial Hatchfield Farm development was rejected at a Forest Heath District Council meeting onWednesday evening.
The 12 councillors voted unanimously to reject the plan, which would have resulted in the building of up to 1,200 new houses, a hotel and shops and restaurants on the Hatchfield Farm site.
Opponents within Newmarket's training and breeding community feared the development and the pressure put on the town's infrastructure could threaten the industry's future.
The meeting took place at the council's Mildenhall office and was attended by several high-profile members of the Save Historic Newmarket Action Group and their supporters including John Gosden and wife Rachel Hood, Luca and Sara Cumani, Sir Michael Stoute and John McCririck, as well as Lord Derby himself.
The area's new MP Matthew Hancock said: "This decision shows the local council and the new government working together for the people of Newmarket.
"The inappropriate development of Hatchfield Farm was being forced on Newmarket by John Prescott's regional spatial strategy.
"Thanks to the fast work of the new government, the council has been given the freedom to make its own decision and answered with a resounding voice.
"Of course Suffolk needs more affordable housing, but ramming through a huge new greenfield development is not the way to go about it. We now need a sustainable vision for the future of Newmarket that recognises and supports the charm of this unique town."
Lord Derby revealed he would appeal the decision and said his plans to improve the town's racing facilities would be jeopardised.
"Naturally, I am disappointed with the decision to refuse my planning application," he said.
"I will reflect on this decision, but, regrettably, I see little option but to lodge an appeal. It is particularly disappointing because this decision will also prevent me from being able to meet the wishes of the Jockey Club - expressed only last week.
"I stated today that I would be proud to fully fund many items on their 'wish-list' - from new horse crossings to much-needed upgrades to existing facilities."