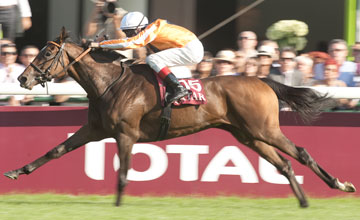 Danedream: looks unlikely that she will be allowed to travel to Paris
PICTURE:
Edward Whitaker (racingpost.com/photos)
Danedream Arc bid in doubt after outbreak
DANEDREAM'S hopes of defending her Qatar Prix de l'Arc de Triomphe crown in Paris on Sunday appeared to have all but ended on Monday night, following the outbreak of a serious equine disease in Cologne.
A horse at the same racing centre as Danedream tested positive for equine infectious anemia (EIA), also known as swamp fever, as a result of which German authorities look set to prevent her travelling to France for Europe's premier middle-distance contest.
All horses stabled around the German course – their number is thought to be in the region of 350 and 400 – were placed in lockdown on Monday night as crisis meetings took place to discuss a travel ban that would prevent Danedream leaving Cologne.
Patricke Barbe, spokesman for Danedream's part-owner Teruya Yoshida, told the Racing Post: "The horse that tested positive was stabled far away from Danedream and is not one of Peter Schiergen's horses.
"It was only one positive test, and that horse has been removed from the area, but the stables in and around the racecourse have had to be quarantined.
"Danedream is in perfect health, cantering well and eating well, and is not involved at all in this, but we must abide by the decision of the German authorities.
"In my opinion her prospects of travelling are only very small, but we are awaiting official news from the authorities."
It is understood horse movement in and out of Cologne – the biggest training centre in Germany – will be restricted for months, and Danedream is likely to be tested for EIA again in the next couple of days.
Betfair suspended their Arc market as news of the outbreak broke, while several high street bookmakers removed Danedream from their betting and formed new markets.
One firm to remove Danedream was William Hill, who make Japanese raider Orfevre their new outright favourite at 3-1.
Camelot, the subject of continued support over the last few days, is the firm's joint second-favourite at 4-1 with Nathaniel, runner-up to Danedream in the King George VI And Queen Elizabeth Stakes at Ascot in July.