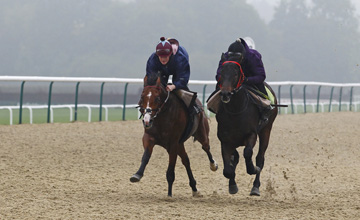 Lingfield: jockeys happy with new Polytrack surface following trial
Jockeys happy with new Lingfield Polytrack
LINGFIELD regulars are in for a shock when all-weather racing resumes there next Wednesday following a break of two months, for the new track looks very different from the one which has been replaced following 12 years of constant use.
The surface is Polytrack still, but the composition has evolved significantly and is now a golden yellow in colour and fluffier in texture.
Clerk of the course Neil Mackenzie Ross, who has overseen the removal and replacement of 10,000 tons of material, warns that the track is likely to ride a little slower than previously to begin with, but jockeys and trainers attending a trial of the surface on Thursday all gave it the thumbs up.
After John Best and Gary Moore had galloped three batches of horses, most of them ridden by jockeys who ride regularly at the track, Mackenzie Ross confirmed: "I'm calling it standard to slow at the moment, but none of the riders today have said it's slow as such and I hope it won't be too long before we are back where we were as I expect it to get quicker as it beds in.However, it's a lot fluffier than the old Polytrack and it has a different texture, so we have to learn how to understand and manage it all over again."
George Baker, who rode three different horses around the track, was very happy with the surface and said: "It will be lovely when it settles in and just needs time. It's potentially really nice."