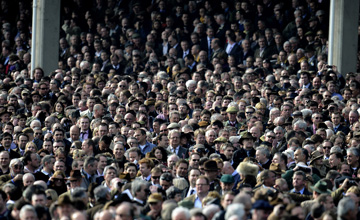 The increase shows racing's continued ability to draw the crowds
PICTURE:
Getty
Attendance increase for first part of the year
MORE racegoers turned up to Britain's racecourses on average during the opening three months of 2012 compared with the same period last year, indicating that spectators' appetite for the sport remains high.
Figures released by the Levy Board on Wednesday detailing attendance figures at tracks in Britain for the opening quarter of this year revealed an increase of five per cent in daily attendances at meetings to 2,629 compared with 2,493 in 2011.
Overall, the amount of people going racing in Britain fell by three per cent to 741,290 in 2012 from 762,770 in 2011, but abandonments led to 8 per cent fewer meetings taking place this year relative to the same period last year.
The figures point to the continued popularity of horseracing as a spectator sport at a time when racing's return from bookmakers through the levy is declining as its share in the betting market is eroded by gambling on other sports and games.
Paul Johnson, racing executive at the Racecourse Association, said on Wednesday: "We are pleased to see the average attendance figures continuing to rise in the first quarter of 2012, which is testament to the on-going good work being done on racecourses across the country.
"It's a shame the weather at the beginning of the year caused so many abandonments, but we would hope to see attendances continuing to stay strong over the coming months, reflecting the rises that we have seen in recent years."
Attendance figures from the Flat during January, February and March showed an impressive 18 per cent rise from 2011 to 2012 with a startling 57 per cent more people going Flat racing during March 2012 than in March 2011.
However, the relatively small number of racegoers normally seen at winter all-weather fixtures mean fewer extra spectators are needed to produce larger percentage changes.
Attendance figures for the second quarter of 2012 are expected to be released shortly but a spate of abandonments as a result of the wet summer are likely to affect the number of people going racing.
Major meetings such as the John Smith's Grand National fixture and Royal Ascot will be covered in the next release of figures.
Racegoer numbers for the Grand National meeting increased marginally from 2011 to 2012, while there was a drop of more than 14,000 attending the five days at Royal Ascot this year compared with last year, although part of the loss was attributed to redesigning enclosures at the course and was expected.