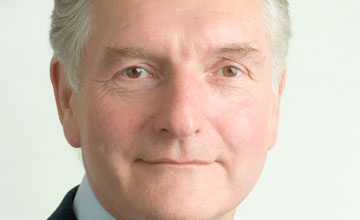 Paul Lee: 'the board is pleased to have reached unanimous agreement'
PICTURE:
Robin Gibson
Prize-money set to soar as Levy deal agreed

LEVY Board members have unanimously agreed the 52nd levy scheme for 2013-14 a full week before the statutory deadline of October 31 while the Levy Board's contribution to prize-money will increase by 30 per cent on 2012, offering the prospect of a record total next year.
With the Levy Board's commitment over £10m higher than in 2012 and with racecourse media rights income set to increase by a similar sum next year, the Levy Board said there was "a real prospect of record prize-money to beat the £110m total of 2009".
The Bookmakers' Committee estimates that the next levy scheme will yield £72.9m. That compares to the estimate of £72.4m for the current scheme.
William Hill, Ladbrokes and Coral have again agreed to guarantee that their combined contribution will not be less than £45m. Betfair have undertaken to make a contribution to British racing, through the Levy Board, which is assumed at £7m.
The next levy scheme will roll over many of the terms from the previous deal with a headline rate of levy at 10.75% of bookmakers' gross profits on British racing, and with the thresholds applicable to betting offices increased to reflect inflation.
The new scheme makes adjustments to the arrangements for relieving the levy's impact on smaller operators with an increase in the flat rate rebate for each betting office.
Levy Board chairman Paul Lee said: "The board is extremely pleased to have reached unanimous agreement. This will provide further stability and make possible significant additional expenditure on prize-money in 2013.
"I would like to give recognition to betting and racing for the constructive approach that they have taken in seeking early resolution to the terms of the next levy scheme."
The Levy Board's prize-money allocation, expected to be £50.2m, compares to £38.9m in 2012 and £34.8m in 2011, inclusive of contributions to breeders' prizes.
Lee added: "Increasing prize-money is an objective of the board in 2013 and we are delighted to announce this substantial rise. We believe that it will be warmly welcomed.

"Importantly, we are able to make this increase without changing the measured approach which we have taken with all expenditure decisions over the past three years. Because we have been prudent, we can now increase our contribution on a sound and responsible basis.

"On the basis that racecourses continue to make their own much increased contributions, there is a real prospect of 2013 providing record levels of prize-money."
BHA chief executive Paul Bittar, on behalf of British Racing's three representatives on the Levy Board, welcomed the agreement and the spirit of co-operation with the betting industry.

He went on: "This mutual respect must continue, and we now have a platform upon which to recommence discussions on long-term, commercial funding arrangements with the major operators and beyond.
"The Betfair deal, which we have instructed be paid through the Levy Board, continues to provide the template in this respect, and is a true commercial partnership."

However he added: "Through no fault of its own or its current custodians, the flaws in the existing levy mechanism do remain, and its collection base is far too narrow for the way in which British punters now bet.
"We look forward to government progressing its proposals for a long-term, enforceable replacement for the levy in line with its commitments, and a modern framework for the relationship between the two industries."