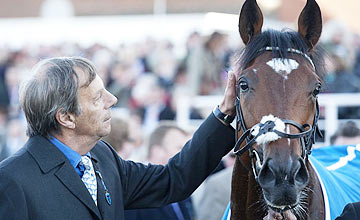 Sir Henry Cecil with Frankel, who notched a perfect 14 wins from 14 races
PICTURE:
Edward Whitaker (racingpost.com/photos)
Legendary trainer Sir Henry Cecil dies aged 70
SIR HENRY CECIL, one of the most influential and successful racehorse trainers of all time, has died. He was 70.
The trainer prepared 25 British Classic winners and reached arguably the pinnacle of his career with his flawless handling of Frankel, who he guided to a perfect record of 14 wins from 14 races.
A hugely popular figure with racegoers, thousands of whom had their own story of meeting the self-effacing master-trainer, Cecil was at the top of his sport for more than half of his four decades in racing.
His long list of champions includes titans of the sport such as Slip Anchor, Old Vic, Royal Anthem, Indian Skimmer, Oh So Sharp, Kris and Reference Point.
Cecil was four times a winner of the Derby and won the Oaks eight times.
In 2011, his remarkable life and sporting achievements were recognised by the Queen when he was knighted for services to racing.
Born Henry Richard Amherst Cecil in Aberdeen on January 11, 1943, Cecil's father, an officer in the Parachute Regiment, had been killed six weeks before his birth and he grew up in Newmarket at Freemason Lodge, the home of his stepfather, trainer Cecil Boyd-Rochfort.
He followed his five-time champion trainer stepfather into the sport in 1964, becoming assistant trainer at Freemason Lodge until Boyd-Rochfort's retirement in 1968 aged 81. Cecil, then only 25, struck out on his own, finishing eighth in the trainers' table in his first season, 1969.
Cecil's talent as a trainer quickly revealed itself and he won his first Classic in 1973 as Cloonagh, bred by Cecil's half-brother Arthur Boyd-Rochfort, won the Irish 1,000 Guineas. Two years later he won his first domestic Classic when Bolkonski defied odds of 33-1 to win the 2,000 Guineas.
In 1976 Cecil became champion trainer for the first of ten times. In the same year he purchased Warren Place, where he would train until his death, from his retiring father-in-law Noel Murless.
In the following years Cecil turned Warren Place into the pre-eminent training establishment in Britain, attracting many of the world's richest and most glamorous owners. Slip Anchor provided Cecil with his first Derby in 1985 and he dominated the trainers' championship for many years.
Cecil's time at the pinnacle of British racing came to an abrupt halt in 1995 when several of his most prominent owners, including the ruler of Dubai Sheikh Mohammed, left the yard.
Cecil then went through a long spell in the wilderness, losing the majority of his horses and relying extensively on the patronage of Khalid Abdullah, who would later breed and own Frankel. In 2006, Cecil publicly revealed that he was suffering from stomach cancer.
However, as Cecil's health declined so his form improved. He won the Oaks with Light Shift in 2007, the start of his career's extraordinary Indian summer. Three years later Frankel's unbeaten juvenile season heralded the beginning of what would prove the defining act of Cecil's career.
Frankel's three-year-old season began with an explosive eight-length victory in the 2,000 Guineas, Cecil's 25th and final British Classic. The colt, considered by many to be the greatest racehorse of all time, proceeded to win the St James's Palace Stakes, Sussex Stakes, and Queen Elizabeth II.
Although many expected Frankel to be retired to stud at the end of his three-year-old season, he returned the following year in 2012 to win a further five races. After his final victory, in the Champion Stakes at Ascot, Cecil said: "He's the best I've ever had and the best I've ever seen. I'd be very surprised if there's ever been better."
Cecil's meticulous handling of Frankel's career was hailed by many as his magnum opus, and introduced both racing and Cecil to a far wider public audience than either had enjoyed for many years.
Cecil once said of Frankel that "greatness is important for English racing too, for the public who love their racing to have a champion". Famously modest, Cecil was unlikely to have ever considered that comment applied to himself as much as to Frankel.