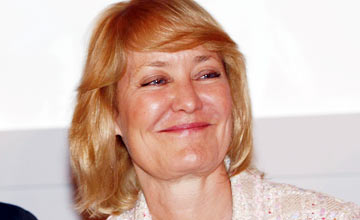 Rachel Hood: right decision made for Newmarket
PICTURE:
Dan Abraham
Newmarket approves Tesco and Morrisons

THE BATTLE to provide new supermarkets in Newmarket was reduced to two competitors on Wednesday evening, with the planning committee of Forest Heath District Council approving the applications of Tesco and Morrisons, with Asda and Sainsbury's proposals rejected.

Local councillors listened to the proposals over the course of a four-and-a-half hour meeting, and decided that Tesco and Morrisons were the preferred options.
Reacting to the decision, Rachel Hood, representing Newmarket Town Council, said: "It was the right decision for Newmarket and I'm very grateful to the District Councillors and Council offices for all their hard work which got the right result."
Representatives of Asda and Sainsbury's declined to comment on the decision, while the Morrison's spokesman was "delighted" at the result.

Tesco already have a presence in the town, with their proposal an extension of the existing Fordham Road site, while Morrisons proposal is a 50,000 square foot store on the site of old gasworks on Exning Road.

There had already been negative reaction to the Asda proposal, which had been put forward by owner-breeder Bill Gredley's Unex Group. The plan was to turn the derelict Queensberry Lodge Stables into retail space, with a fast food drive-through restaurant also mooted.