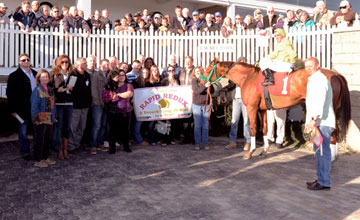 Rapid Redux will receive a special Eclipse Award for his remarkable run
PICTURE:
NTRA
Rapid Redux moves to within one of US record
Report: USA, Wednesday
Laurel
RECORD-BREAKING gelding Rapid Redux (David Wells/JD Acosta) moved to within one win of the all-time US record for consecutive victories when he made nearly all in typical fashion for his 22nd straight race at Laurel on Wednesday.
The six-year-old's latest victory, which came only hours after he was honoured with a special Eclipse Award, means he needs to just one to equal the mark set by Leviathan, who won 23 races between 1797 and 1801.
Rapid Redux's participation at Laurel was in doubt for much of the day after he 'grabbed a quarter' (struck into himself), resulting in a minor cut to his off-fore.
He was sent off 3-5 favourite after his connections decided to let him take his chance in a $17,000 starter-allowance contest over 1m on the dirt at the Maryland track, where he faced only four rivals after three horses were scratched.
After hitting the lead within half a furlong, the resolute son of Pleasantly Perfect was challenged throughout by second favourite Awesome Rhythm before digging in to hold off that rival by three-quarters of a length under jockey JD Acosta.
"He was getting out a little bit down the lane with me," said the jockey. "I was really concerned because I had that other horse right next to me the whole time. I knew he was the horse to watch.
"When we turned for home he really started running the way he always does. He picked up the bridle and he started running really strong. "
Trainer David Wells was worried the horse had been beaten. "I was at a really bad angle and from my angle he got beat," said Wells.
"It was 30 per cent to run yesterday. We jog him this morning for the vet and put the hoof testers on and he thought we were going to be okay.
"He has been placed really well," added Wells. "Condition books win races and that is what it is. He is not a stakes horse. He is not an allowance horse. People want us to try it but he is not that quality."
Owner Robert Cole, raised nearby in Baltimore county, claimed spit-and-sawdust star Rapid Redux for just $6,250 at Penn National in October 2010.
Since then, he has won 23 of his 24 races, scoring at seven different tracks at distances from 5f to 1m1f.
"The math is unbelievable when you think about it," said Cole. "It is tough to win this many in a row. The durability is his greatest trait. He'll keep running as long as he's healthy."
Rapid Redux, whose career record stands at 28 wins from 42 starts, won all 19 of his starts last year during a sequence in which he surpassed the modern-day record mark of 19 straight wins achieved by Zenyatta and Peppers Pride.
His winning streak of 22 is the highest in North America since Camarero set his world record of 56 in Puerto Rico between 1953 and 1955.
On Wednesday it was announced that Rapid Redux will be honoured with a special Eclipse Award during America's championship ceremonies in Los Angeles on January 16.
The award, which is not presented every year, is designed to honour extraordinary service, individual achievements in, or contributions to the sport of thoroughbred racing.
"It's a top award in this sport and a dream come true," said Cole. "Rapid Redux has shown the greatest in durability and consistency. He hasn't thrown in a bad race. To win like this over a 13-month period is nearly impossible.
"He's Maryland home-grown running in Maryland. We wanted him to stay close to home as he relates so well to the average fan. It's not like going to the sales and paying a million dollars. He's a blue-collar horse."
Rapid Redux joins the likes of jockeyRussell Baze, the world leader in career victories, legendary rider Laffit Pincay and Sheikh Mohammed on the list of special award winners.
"The achievements of Rapid Redux in 2011 were remarkable," said Alex Waldrop, National Thoroughbred Racing Association president and chief executive officer. "Winning 21 consecutive races including 19 of them in a single year - at distances ranging from five furlongs to a mile and an eighth - is something we won't see again soon."
Eclipse Special Award winners
1971 : Robert J. Kleberg
1974 : Charles Hatton
1976 : Bill Shoemaker
1980 : John T. Landry/Pierre Bellocq
1984 : C.V. Whitney
1985 : Arlington Park
1987 : Anheuser-Busch
1988 : Edward J. DeBartolo Sr.
1989 : Richard L. Duchossois
1994 : Eddie Arcaro/Johnny Longden
1995 : Russell Baze
1998 : Oak Tree Racing Association
1999 : Laffit Pincay, Jr.
2000 : John Hettinger
2001 : Sheikh Mohammed
2002 : Keeneland Library
2004 : Dale Baird
2005 : Cash Is King Racing Stable
2006: Roy and Gretchen Jackson and the University of Pennsylvania School of Veterinary Medicine's George D. Widener Hospital for Large Animals at New Bolton Center
2007 : Kentucky Horse Park
2010 : Team Zenyatta