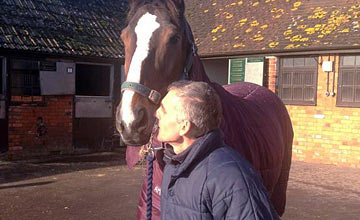 Paul Nicholls' head lad Clifford Baker gives Kauto Star a farewell kiss
PICTURE:
Niall Hannity
King George hero Kauto Star leaves Ditcheat

THERE was anger and sadness at Ditcheat on Tuesday as Kauto Star left the yard of Paul Nicholls, his home for nine years.
The dual Gold Cup and five-time King George winner, who was retired at the end of October, had been expected to remain at Manor Farm until after Christmas.
He will now be assessed for his suitability for retraining as a dressage horse by Yogi Breisner, the Team GB eventing performance manager. Laura Collett, a reserve rider in the Olympic eventing team, has been asked to ride Kauto Star.

Nicholls tweeted: "Just to confirm we have delivered KS to his new home. Am sure he will have the best of everything. Good luck my friend, horse of a lifetime."
It is understood that the unexpectedly early departure stems from a disagreement between Nicholls and owner Clive Smith about where Kauto Star's future ought to lie.
Nicholls had offered a home-for-life for Kauto Star at Ditcheat, but Smith, who could not be reached for comment on Tuesday, announced on Monday that he would press ahead with his dressage plan, saying "he is just too good to be a hack or in a field".
Nicholls called Smith on Tuesday morning to bring forward the departure.
Paul Nicholls and Kauto Star
PICTURE:
John Grossick (racingpost.com/photos)
"I rang Clive and said I had no wish to fall out with him but told him that I was sending Kauto to his new home today," Nicholls said.
"I explained that I did not want my team's distress to last any longer than it needed to and then I thanked Clive and wished him good luck."
He added: "This has been an extremely sad and upsetting day for everyone at Ditcheat.
"Kauto is the most magnificent horse and everyone knows how much the team here loves him. This has been like losing a member of the family."
Several people closely connected to the yard subsequently took to Twitter to make clear their disappointment.
Nicholls' travelling head girl Donna Blake wrote: "Farewell to our dear Kauto Star, sad day that he is leaving those who genuinely care and respect him. Undeserved."
She added: "[Kauto Star] leaving us today...sorry we did our best to secure a peaceful retirement being ridden by myself and Clifford. Heartbroken".
Assistant Dan Skelton wrote: "Today felt like saying goodbye to a best friend. Kauto has been a phenomenon, truly a champion and a horse of a lifetime."
Danielle Baker, daughter of head lad Clifford Baker, tweeted: "Gutted to think that [Kauto Star] won't be home when I next go back and I never even got to say goodbye. Such a special horse."
By contrast, Laura Collett, a reserve rider for the Olympic eventing team, was thrilled to get the opportunity to work with such an immensely talented horse, who earned more than £2.3million during his illustrious racing career.
She tweeted: "I feel very privileged and extremely honoured to have been asked to ride Kauto Star.
"I will be working closely with Yogi [Breisner] to give Kauto Star the best chance of a second career in dressage."