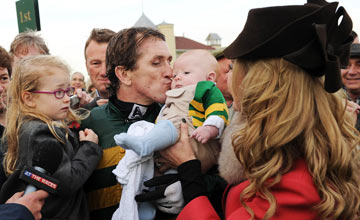 Tony McCoy will be spending time in hospital with his son Archie
PICTURE:
Getty Images
McCoy to miss two days to be with son in hospital

TONY McCOY will have his final rides before the Cheltenham Festival at Sandown on Saturday afternoon, as the 18-time champion jockey is taking time off to be with son Archie in hospital.
Archie McCoy underwent cardiac surgery on Friday, and McCoy, writing in his column for the Daily Telegraph, said: "I must admit that my personal build-up to this Cheltenham Festival, the 19th of my career, has been the most difficult.
"Yesterday [Friday] my wife Chanelle and I spent the day in the Portland Hospital with our seven-month-old son Archie, who underwent cardiac surgery.
"As any parent will know the health of their children is paramount. Archie had recently been diagnosed with a bronchial tube narrowing, which was restricting the air flow to and from his lung. At the Portland, he is in the good hands of cardiologist Professor John Deanfield.
"Consequently, though I intend to ride at Sandown today, I will not be riding tomorrow or Monday as I will be with Chanelle and Archie in hospital. I would probably have taken the days off to freshen up for Cheltenham anyway.
"Deepest thanks to our friends and family for the great support we have had over this."
McCoy is on 198 winners for the season, and has four rides at Sandown on Saturday, including William Hill Imperial Cup fancy Regal Encore.