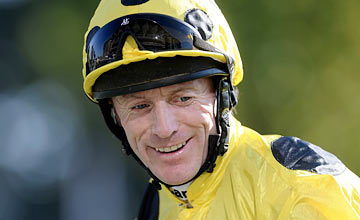 Kieren Fallon: takes charge of the British and Irish jockeys team
PICTURE:
Getty Images
Fallon leads top team
in Barbados challenge

KIEREN FALLON will captain a star-studded team of British and Irish jockeys in the inaugural Winter Jockeys' Championship around the tight turns of Garrison Savannah racecourse in Barbados on Saturday.
Jimmy Fortune, Seb Sanders and Pat Smullen will make up the side that will face a stern challenge from crack local riders Anderson Trotman, Antonio Bishop, Damario Bynoe and Antonio Whitehall in the five-race series.
Fallon said: "It's going to be an exciting afternoon. My boys and I are very impressed with the track although we're aware that the local jockeys are going to be tough nuts to crack because they know the place like the backs of their hands."
The raiders fared well in the draw for rides, however, with Fallon being paired up with four fancied runners from the stable of leading local trainer Victor Cheeseman.
The initiative, which has secured a three-year sponsorship from the Barbados Thoroughbred Breeders' Association, Courtesy Garage/Hyundai, Mango Bay Barbados and the island's tourism authority, will be broadened in 2014 to embrace a jockeys' team from North America.
Sir David Seale, president of the Barbados Turf Club, said: "We are thrilled to have attracted such an eminent team of visiting riders. Our track may be small but it is so intimate and the welcome given to winning jockeys is unrivalled elsewhere."
The visitors have already enjoyed a taste of the local culture by swimming with racehorses in the Caribbean Sea. Afterwards, Fallon quipped: "Let's hope we are not also all at sea around the Garrison!"