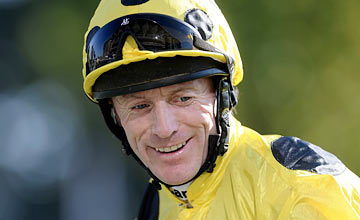 Kieren Fallon: "I'm not getting the same rides as I used to"
PICTURE:
Getty Images
Fallon ponders future and slams prize-money

KIEREN FALLON on Thursday admitted he would consider quitting as a jockey if continuing to miss out on big-race rides as he cited midweek racing as "boring".
The six-time champion jockey made the comments when substituting for the flu-stricken Frankie Dettori at the Leaders In Racing conference at Chelsea's Stamford Bridge football ground in London before going on to ride at Kempton's all-weather meeting.
Fallon, who has been no stranger to controversy over his career, is now 47, and while still enjoying the patronage of leading Newmarket trainer Luca Cumani, he no longer appears to be on the radar of the top stables when major races come around.
"I don't think I have many [years left in the saddle]", Fallon told his audience of around 200.
"I feel great. I feel as fit and ever and I'm enjoying it, but I'm not getting the same rides as I used to. I've had a great career, I've enjoyed it, and I wouldn't like to go out without riding in the big races.
"If it continues to go down hill, I wouldn't stick around."
Fallon, like many of his colleagues, regards the level of prize-money in British racing as a major issue, and given the platform to express his views, was not going to pass up the opportunity to hammer his point home.
Speaking on behalf of the senior jockeys, he said: "We just target the weekends now, those are the big days. Prize-money is much better so you'll have good rides and good racing.
"During the week it's boring, but you still have to do it it to keep sharp and fit and to keep the weight down and for some people to earn a bit of money."