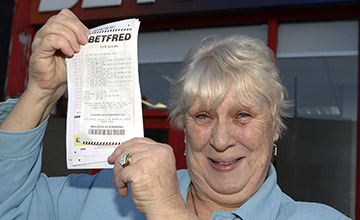 Geraldine Hughes: chose her six winners by using family names
PICTURE:
NIGEL BENNETT
Supersized Scoop6 pools set to hit £3 million
COMBINED Scoop6 pools of as much as £3 million await punters on Saturday with the bet's organisers Betfred offering odds of only 4-6 that the win fund will be toppled.
RELATED LINKS
A total of 73 declared runners across four races from Haydock and two from Kempton represent the Rubicon to be crossed for those dreaming of a life-changing windfall.
The win fund starts the day at £973,464 and even at that level has only twice been bettered - the peak being £2,037,527.
For those who crack the bet by solving all six legs there follows the temptation of a bonus fund swollen to £1,295,763 - and due to rise further on Saturday - after 33 weeks without a winner.
Among those to miss out on the bonus were gambling grandmother of 19 Geraldine Hughes who staked £2, chose her horses by the kids' names, and pocketed the £154,792 win fund in February. The following week, with a solo shot at the £702,010 bonus, she was out of luck.
Betfred reckon close to £1m will be wagered on the day and are ready to claim, at £3m, the bet's second biggest combined rollovers since its 1999 launch.
Spokesman Andrew Griffiths believes the first five legs are wide-open contests, but the finale - the Tim Molony Handicap Chase at Haydock - offers punters a potential banker with Fentara will be well fancied to beat her five rivals.
"There's no doubt punters are going to pile into the Scoop6," said Griffiths, "and the sheer weight of investment means it's more than likely it will be cracked."
Betfred offer 11-10 that the win fund will not be won on Saturday.