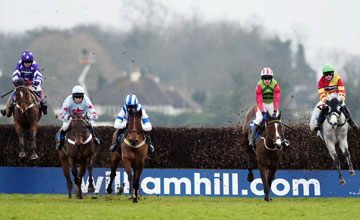 Kempton (above) passed a third course inspection at 11am
PICTURE:
Edward Whitaker (racingpost.com/photos)
Kempton set to race after passing third inspection

RACING at Kempton will go ahead as planned on Saturday after the track passed a third inspection at11am.
Freezing overnight temperatures forced clerk of the course Barney Clifford to check three times - 8am, 10am and 11am - but he said conditions had improved enough for the meeting to go ahead.
Clifford said: "Racing goes ahead and we're absolutely delighted. It's been a busy morning and we're pleased it's no longer white.
"Everything's fine now and the temperature is up to around three degrees. It got down to minus four and it was white first thing, but it was a very dry frost and not penetrative."
Kempton's seven-race card, including the William Hill Lanzarote Hurdle, is due to get underway at 12.30pm, with the going described as good, good to soft in places on hurdle course.
There was no need for an early inspection at Warwick after officials decided to cover the entire course with frost covers on Friday.
Despite temperatures being slow to rise on Saturday morning, clerk of the course Andrew Morris is not anticipating any problems.
Speaking just before 11am, Morris said: "As things stand I don't predict any problems. We started to remove the frost covers at 10am and I'm pleased with what I've see so far.
"We started removing the covers in the back straight to begin with as that area gets the sun first. There's a bit of warmth in the air now and temperatures in the sun are above freezing. It would still be below freezing in the shade but I'm not predicting any problems."
The going at Warwick is described as good to soft, soft in places on hurdle course.