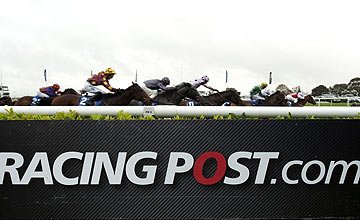 Racing on Monday afternoon was hit by two horrific falls
Horrific falls hit racing at Hamilton and Kempton
RACING on Monday was interrupted by two horrific incidents ten minutes apart at Hamilton and Kempton.
At Hamilton, jockey Paul Mulrennan sustained a broken collarbone, broken ribs and concussion after he was fired to the ground in the closing stages of the 5f handicap at 2.40pm.
Ten minutes later, three horses were involved in falls in the second race at Kempton as the field thundered up the home straight.
Ted Durcan on Don Ottavio, Renato Souza on Silvercombe and Seb Sanders on Synonym all crashed to the ground.
Racing was delayed at both venues as medical teams and veterinary officers dealt with the incidents.
Mulrennan's mount Boxing Shadows appeared to clip heels and took a heavy fall. Mulrennan was attended to on the track for an assessment of his injuries before being taken by ambulance to Wishaw General Hospital in north Lanarkshire.
Hazel Peplinski, clerk of the course at Hamilton, said: "Paul is in quite a lot of pain and is very confused. He has a suspected broken collarbone and is being taken to Wishaw Hospital for x-rays."
Joe Fanning, who won the race on Manatee Bay, was handed a seven-day ban for careless riding, as BHA stipendiary steward Adrian Sharpe explained.
"Fanning's mount came across a horse width," said Sharpe, "and Mulrennan's horse clipped heels with his mount and fell."
Fanning said: "I came across a bit, but it's not the ban that matters it's Paul that matters."
At Kempton, Sanders was passed fit to ride in the following race - which he won on 11-2 chance Spiritual Flame - and Durcan took his later rides.
The initial news was that Souza, who was lifted off the track in the special stretcher, was not seriously injured.
It later transpired that the Sylvester Kirk-trained Silvercombe had to be put down as a result of injuries sustained. Synonym was taken off the course in a horse ambulance while Don Ottavio was also reported to have sustained injuries.
The delay at Hamilton stretched to at least 50 minutes as the return of the ambulance was awaited.
Officials at Hamilton including Chris Dennis, the BHA's northern inspector of courses, examined the racing surface in the area where the fall took place.
Peplinski said that this was a matter of procedure, adding: "We are always asked to look at the course after an incident like this but it seems clear from the pictures that the horse clipped heels."
In a later statement outlining Mulrennan's condition, Peplinski said: "The jockey Paul Mulrennan was injured during the 2.40pm race at Hamilton Park earlier today. Our on-site medical team treated him immediately and he was then taken to Wishaw General Hospital.
"Initial tests show Paul has suffered concussion, a broken left collarbone and broken ribs. Further scans are being carried out.
"Everyone at Hamilton Park Racecourse wishes Paul a full and swift recovery."
Peplinski added that Mulrennan also suffered a punctured lung but that a scan for head injuries was clear.