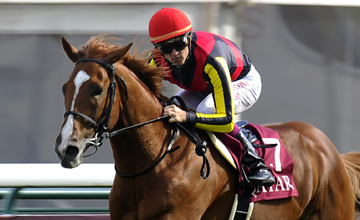 Orfevre: bids to go one better in this year's Prix de l'Arc de Triomphe
PICTURE:
Getty Images
Ikee: Orfevre is the biggest threat to himself
ORFEVRE was on Saturday reported to be "in the same kind of condition as at this time last year" by Yasutoshi Ikee but the Japanese trainer admitted the biggest threat to the Qatar Prix de l'Arc de Triomphe favourite is himself.
Last year's runner-up hardened in the betting following the news that Novellist will miss the race due to a fever, however Ikee insists the five-year-old still faces the same number of rivals.
He said: "If we end up with 17 runners then Orfevre will have 17 opponents because first of all, he is the biggest threat to himself. But if he does his work, he'll win because, whenever he has done his work properly, he's won."
The ground should prove less of a slog than the son of Stay Gold encountered last year, with the going expected to remain soft for Sunday's Longchamp showpiece following a dry day in Paris.
A fresh strip of ground will be opened up for the big day and the track's director of racing Christian Delporte said on Saturday: "It's soft this afternoon and it will be the same tomorrow. It's not really drying out any more - it has been overcast today and then there will be mist in the morning. We don't expect any more rain."
He added: "The rail will be moved back 18 metres to its maximum width before the first race tomorrow."
On what promises to be an action-packed Sunday, the Arc is one of seven Group 1 races at Longchamp with Moonlight Cloud, a five-time winner at the highest level, bidding for further big-race success in the Prix de la Foret.
There will be plenty of Brits on show too with Jwala heading a strong raiding party in the Prix de l'Abbaye, though the French will be hoping last year's win with Wizz Kid marked the end of domination which has seen nine of the last 11 renewals go to the British.