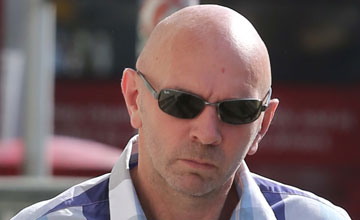 John McCracken: is acused of being involved in a £5 million betting scam
PICTURE:
Connors Brighton
Jury fail to deliver verdict on McCracken
THE jury in the trial of warned-off punter John McCracken and two other men accused of being involved in a £5 million betting and tipping scam will return to Lewes Crown Court on Wednesday morning to continue their deliberations after failing to deliver a verdict on Tuesday afternoon.
McCracken, 47, from Brighton, and his fellow defendants, John Brice, 40, of Hove, and Matthew Thole, 40, a company director from Cardiff, all deny charges of conspiracy to defraud.
Summing up McCracken's evidence for the jury, Judge Richard Hayward said: "The prosecution says it was risky to use the name of a real person in a campaign unless they were in on it.
"There is no evidence he is involved in the mail shots. There is no evidence he received money from the bank account. There is no evidence linking him to the alleged co-conspirators, apart from his name and photo being all over the mail shots.
"McCracken told you he is a compulsive gambler and a prolific gambler. He backs horses to lose, he has paid jockeys, 98 per cent of his information is accurate. He said he gave no permission to use his name or his photo."
Judge Hayward went on: "The defendant [McCracken] has admitted to you a propensity to defraud others. That's what he says he does. The Crown suggests that propensity makes it more likely he was involved in the conspiracy in this case. It does not follow that because McCracken has a propensity that he is guilty of these offences."
Earlier he stressed to the jury they must consider the case against each defendant separately, explaining: "Just as it is a criminal offence to defraud someone, if two or more people agree to commit fraud the agreement is a conspiracy.
"The prosecution's case is that each defendant conspired with each other and others to defraud punters and racing enthusiasts of money for services which were never going to be supplied. It may be that some conspirators are more involved than others.
"The crown has called evidence as to how they [victims] were defrauded of money. But to prove its case against each defendant the Crown is relying partly on what is called circumstantial evidence.
"The basis of circumstantial evidence depends on the unlikelihood of coincidence. They seek to prove to you this coincidence can only be explained rationally by the involvement of these defendants. It is not to be regarded as second-rate evidence, but might be regarded with care."
The judge added: "Some of you may feel the losers in this case are gullible, foolish and even greedy. They had forgotten the old adage if something is too good to be true, it probably is."