Alastair Down pays a fitting tribute to the one and only John Oaksey
PICTURE:
Mark Cranham (racingpost.com/photos)
'Jump racing's immortals have been augmented by someone utterly special'
AFTER a long struggle one of the great hearts lies still at last. There comes a time when you urge those you love to go. They have had more than enough and you wish for them a final and irrevocable peace in some quieter pasture, hard-earned and richly deserved.
So it must have been in recent days for those closest to John Oaksey as the last hours were logged of his wonderful life. But although you have prepared yourself for the inevitable and know full well it is coming, there is still a fierce, painful pang of shock at the finality of the end.
Those who loved John without reservation - and whom he loved in return - suddenly find the harbour lights of their life have been extinguished. But those same, bright lights were an enduring guide to more than family and friends because in every nook and cranny of these islands there are folk whose lives have been enriched, enlivened and uplifted by the diminutive powerhouse and force for good that was Oaksey.
And although he was born to privilege it was often in the humblest of abodes that his light shone. Hundreds upon hundreds of beneficiaries of the Injured Jockeys Fund were given back their lives, dignity and sense of purpose because of one man's vision and volcanic compassion.
Racing has always sown seeds of glory but the downside of the wonder is a sad harvest of men with shot nerves and shattered bodies, the punch-drunk and the paralysed.
But until John's Damascene moment in the early 1960s we did little more than wring our hands over the crushed and crocked. Yet he seized the burning brand and lit a fire that has illuminated many dark places of the soul with a tireless and practical kindness that no other sport has ever matched.
Many others have been involved in the IJF but its first steps were powered by the heartbeat of one man. Every great cause needs its prophet and the voice crying in the wilderness for injured jockeys was Oaksey. The ongoing health and vigour of racing's pre-eminent charity remains his crowning glory.
But Oaksey was ever a man of action. His father, Geoffrey, was a lawyer of huge distinction and the principal British judge at the Nuremberg trials. Indeed, when Oaksey was 16 he spent part of one summer at that most pivotal weighing of the scales of justice, where his father was president of all the judges.
But despite having had a Group 1 education at Eton, Oxford and Yale, John decided against following the expected path into the law. Instead of becoming "my learned friend" he became, through deed in saddle, erudition of pen and exercise of humanity, perhaps the finest friend racing had during his incarnation.
And, by God, he was some amateur jockey in an age when there were some cracking fellow Corinthians about and when the pros would do everything in their power to make their afternoons a misery before buying them a drink, or 12, in the evening.
The triumphs were many and in days to come Channel 4 will doubtless show that grainy footage of John's extraordinary victory in the 1958 Hennessy on Taxidermist when the race was run at Cheltenham. All of us have seen the world change in seconds up that most famous of racing's hills, but never so spectacularly or unbelievably as by the run conjured out of Taxidermist, who came from no place visible to stuff his rivals good, proper and comprehensive.
And in 1963, riding Carrickbeg in the Grand National, he was touched off close home by Pat Buckley and Ayala. Pausing but momentarily to rue the narrowness of his flirtation with jumping folklore he weighed in and then made his way over the Ormskirk Road to file his copy for the Telegraph.
In the years that followed he would entertain friends - and at after-dinner speeches the well-oiled and well-heeled - with the story of being stopped by a passer-by one evening in Piccadilly, who said: "I know you! You're the bugger who got tired before his 'orse."
It was a slanderous remark but Oaksey, a born raconteur, knew that many a travesty made a better tale than the truth.
John had a very long incarnation writing as Marlborough in the Telegraph but the fact that his prose was light years ahead of his prowess as a judge meant that not all his readers were appreciative of his efforts.
One much-valued letter read: "Dear Bastard, You couldn't tip more shit if they gave you a bloody wheelbarrow. What's more, with that awful toffee-nosed accent of yours, you make it sound like all the bleedin' losers went to Eton!"
But if Oaksey was an ordinary tipster, please believe me that he was a sublime writer, whom the angels had indeed dipped in something special at birth. When I was ten and receiving a wonderful education at an institution for the cosseted, I recall picking a book off the library shelf entitled I Was There - a collection of the best pieces penned by the Telegraph's sports writers.
It is as if I held the book now that I remember it, cellophane-bound and heavy with promise. Alone in that small room I opened it up, looked for the bit about racing that had to be there somewhere. And it was then that I read the article by John Lawrence, as he then was, that is beyond any doubt the reason I write this piece today.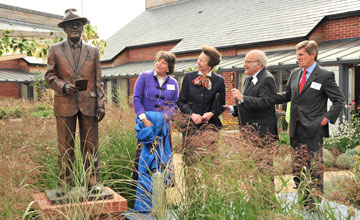 WITHOUT any licence or exaggeration I can recall to this second the way in which the shivers ran up my spine as John took the reader through that spellbinding afternoon when a bitless Mandarin and a heroic Fred Winter won the Grand Steeple-Chase de Paris. Those who have not read John's imperishable account have one of life's joys still ahead of them. Those who have already read it will know that the 30th reading comes up as fresh as the first because in those pages magic lies.
It was in those moments, when John grabbed me by the scruff of my neck and hurled me across the Channel and plonked me down in the Bois de Boulogne at Auteuil, that I suddenly grasped a truth - that it was possible to take people anywhere they wanted to go courtesy of the power of words driven by genuine passion. Those minutes spent reading John's words and feeling them rip through my mind and emotions drew my path in life.
Eventually, with a touch of luck and a following wind, you meet your heroes. Needless to say 99 per cent of them are a disappointment. But Oaksey was the one per cent, an unvarnished joy.
I see him now in his many roles. Hard-charging and implacable amateur jockey, a writer never frightened of sheer emotion, founder of an institution, and a broadcaster with the insight of having done the job himself. But when I think of him now I also see him in later years, standing in the bitter cold of his 70s alongside his beloved Chicky selling IJF Christmas cards in some frozen corner of a shires outpost with the dedication of a man a fraction of his mileage. A dedication born of nothing else but love.
And now he is dead. And if that passing is some form of sweet relief to him and those who loved him then I am glad he is gone - the hunter home from the hill at last.
I remember last November, after his home-bred Carruthers won the Hennessy, being embarrassed at sitting in the press room at Newbury unable to contain my tears at the fact he was not there. But I am not ashamed of my tears, nor do I see them as a weakness, because 46 years ago as I read John's loving account of Mandarin's deeds I saw in a blinding flash that jump racing is all about emotion and the power of man and horse to both shake and shape your core.
So farewell to you John Oaksey. And thank you from the countless hearts and souls of the many of us who believe that, with your passing, the ranks of jump racing's immortals have been augmented by someone utterly special.
And as is the way with immortals, Oaks, you will live forever as long as there are folk who think that jumping a fence flat out on a winter's afternoon is a blessed piece of devilment forever worth the doing. And may that prove to be always.