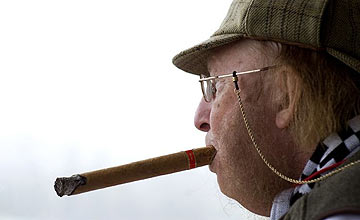 John McCririck: faces a large legal bill after losing case against Channel 4
PICTURE:
Getty Images
McCririck 'inconsolable' after tribunal verdict

JOHN McCRIRICK on Thursday insisted he had no regrets over bringing his age discrimination claim against Channel 4 despite being left "inconsolable and desolate" by the Central London Employment Tribunal ruling against him.
Britain's highest-profile racing pundit accepts the decision signed the death knell on his long terrestrial TV career although he will continue to feature on At The Races where he is next booked to appear on Sunday morning's Forum programme.
McCririck, 73, who will be at Cheltenham on Friday in a bid to lift his spirits, admits the failed legal battle has come at a heavy financial cost which he has still to fully quantify, but said his home is not at risk.
"There is nowhere for me to go," he said "It's like racing, if you lose by a nose, a short head or 20 lengths it makes no difference, you are vanquished and that's it.
"But I couldn't have lived with myself if I hadn't taken them on. The anonymous suits and skirts that make these decisions and are unanswerable and unaccountable to anybody. It was unjust what they did and there was a cull of the over-50s and I couldn't have laid down and accepted it, but I lost and that's the judicial system in this country. We had two very fair hearings, a High Court judge made the decision, and that's what the law said and you can't argue with it.
"The financial cost is going to be very bad, but that was always going to be part of it, although I won't lose my home."
McCririck, who was claiming £3 million, took his former employer and IMG Media, producers of Channel 4's racing output following the network's acquisition of the sport's terrestrial broadcasting rights, to the tribunal alleging his sacking last December was motivated by age discrimination.
In dismissing his claim, the tribunal said: "All the evidence is that Mr McCririck's pantomime persona, as demonstrated on celebrity television appearances, and his persona when appearing on Channel 4 Racing, together with his self-described bigoted and male chauvinist views, were clearly unpalatable to a wider public."
Faced with this damning indictment, McCririck said: "Who will want to employ me now [on terrestrial TV]? But ATR have been very good to me throughout and I am very grateful for work I get from them."
He went on: "I am inconsolable and desolate but what can you do? There are over two million people out of work in this country and I am not the worst off, but when you lose like this when I thought our case was overwhelming is very disappointing.
"All the pantomime [behaviour] and sexism was [for] Channel 4, and when you are sacked after 29 years and nobody faces you up and asks you to change, it is absolutely disgraceful, but that is what the judge ruled and you have to accept it."