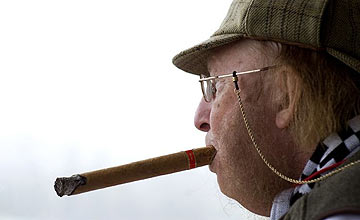 John McCririck: "Ageism is illegal and this litigation should be a watershed"
PICTURE:
Getty Images
John McCririck launches legal action against C4
JOHN MCCRIRICK is seeking £3 million in damages after launching legal proceedings against former employer Channel 4 and production company IMG Sports Media citing age discrimination.
One of racing's most recognisable faces, McCririck, 72, had been Channel 4's betting ring expert for 29 years before he was left out of the new team for 2013 after IMG took control of production of racing from Highflyer.
McCririck, who had expressed some hope of returning to Channel 4's line-up in the future, said he hoped the proceedings provided a "watershed" moment.
In a statement to the Racing Post on Wednesday, McCririck said: "Channel 4 and production company IMG Sports Media were yesterday each served a letter before action for age discrimination.
"After 29 years with Channel 4 Racing, on a rolling annual contract, I have been sacked without any consultation or cogent explanation. I am 72.
"For loss of future earnings, unfair career damaging, public humiliation, stress and mental anguish, I will be seeking £500,000.
"I am seeking a further exemplary, punitive £2.5 million, part of which will be donated to charitable organisations helping to prevent negative prejudice in the workplace."
He added: "Ageism is illegal. For tens of thousands of employees it has become the feared scourge of our society. This litigation should prove to be a watershed.
"There's no upper limit to the amount of damages employment tribunals can award under the Equality Act 2010."
McCririck is being represented in his action by Stephen Beverley, an employment and sports law specialist solicitor at London West End Cavendish Legal Group on a no-win, no-fee basis.