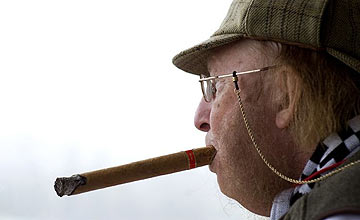 John McCririck: boisterous presenter hopes to resume his terrestrial career
PICTURE:
Getty Images
McCririck hopes for TV return as new era nears

JOHN McCRIRICK hopes he might return to the Channel 4 racing team in the future after taking part in the final programme before production and presentation of the coverage is placed in new hands.
McCririck, 72, has been the face of the betting ring since 1983 and is one of the most recognisable figures in racing broadcasting, but he will not figure in Channel 4 coverage next year.
A boisterous and often controversial figure, McCririck described his time working for Channel 4 as "a privilege" and thinks his experience means he can offer an edge in reporting on betting moves.
He said: "Life is very strange and strange things happen. No decision is irrevocable, although there is no reason to hope for that. I think it's the wrong decision and I just hope they reverse it.
"It's been a privilege to work here. On sports programmes they have people who have done it like Gary Lineker on the football and the cricket on Sky Sports is packed with fantastic past players.
"We're lucky on Channel 4 as I worked on betting-shop floors and as a clerk and a bookmaker and Tanya [Stevenson] has worked on the pitches and I think it's right you should have someone who is experienced and has done it."
McCririck left the show along with fellow presenters Alastair Down, Derek Thompson and Mike Cattermole, as production of the show moves to IMG from Highflyer on Tuesday.
However, the first new-look show could be poised to lose the feature meeting of its debut show on New Year's Day.
Cheltenham's January 1 fixture hinges on a 10am inspection on Sunday with clerk of the course Simon Claisse hoping the weather does not bring forecast rain.
Continued rain left the going at Cheltenham heavy on Saturday with 7mm falling on the already saturated turf and an equal amount forecast for the track before the inspection.
Claisse said: "The ground is still heavy and it's still raining. There is more rain forecast overnight. We're forecast 4-7mm and have had 7mm so far today. We'll continue to hope the forecast will change."
The loss of Cheltenham's meeting would see a low-key start to life for the revamped Channel 4 racing. The broadcaster has two races from Musselburgh scheduled alongside Cheltenham and is set to reveal plans for Tuesday once Cheltenham's fate becomes clear.
Taunton's fixture on Sunday is also subject to a 7.30am inspection after downpours left the course unraceable.
Clerk of the course Michael Trickey said: "We're not raceable at the moment. We need it to be a dry night ideally."
Warwick's meeting on Monday is under threat with heavy rain forecast for the track, where the going is already heavy. An inspection will take place at 8.30am on Sunday.
"The course is saturated and we did have standing water on the track yesterday," said clerk of the course Sulekha Varma. "It depends on how much rain we get. If it rains as much as forecast then we'll be in trouble but if there isn't as much rain then we have a chance."