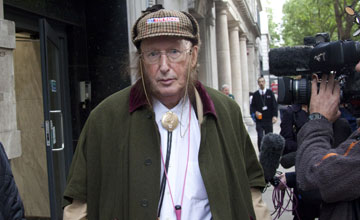 John McCririck: seeking £3 million in damages from Channel 4 and IMG
PICTURE:
National News and Pictures
McCririck axing 'lacked warmth' admits C4 boss

THE Channel 4 boss who confirmed the axing of John McCririck from the betting role he created admitted on Friday that it could have been handled better, before launching into the latest attack on his reality television appearances.
Jay Hunt, Channel 4s chief creative officer, giving evidence on the fifth day of betting pundit McCririck's employment tribunal in central London, said: "It could have been done with greater compassion to a long-serving member of the Channel 4 family. The reasons for doing it were understandable but lacked some warmth."
She revealed that Clare Balding, who was to head up the new "dream team" of presenters, emailed her with concerns about McCririck's demise after the news broke.
Hunt said: "Clare said she had some sympathy with him on one point - that he did it [appeared on reality shows] because he thought Channel 4 wanted him to, and those appearances were linked to the decision not to invite him to appear on Channel 4 Racing in 2013."
While Hunt repeatedly stated she knew nothing about racing or sport and, as such, relied on the decision arrived at by Channel 4 commissioning editor for sport Jamie Aitchison, in conjunction with IMG, that was put before her, she later added her own attack on McCririck's "shouting from the rooftops on his views on women, posh people, sexual attitudes and low-level misogyny."
She referred to a Daily Mail interview with McCririck and his views, of which she said: "I found breathtaking as a woman that they are held by people still, I found them very offensive."
McCririck, 73, claims his dismissal last December was due to age discrimination and is seeking £3 million in damages, of which £500,000 is for loss of earnings. His case against Channel 4 and IMG Media is due to finish on Monday.
Read more in Saturday's Racing Post newspaper, including David Ashforth's colourful take on proceedings, or download the iPad