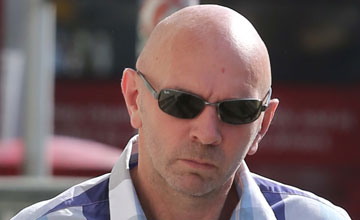 Mailshot in name of John McCracken promised "magnificent profits"
PICTURE:
Connors Brighton
Lawyer lost £17,000 to McCracken, court told

A LAWYER handed over savings of £17,000 after initially responding to a horseracing betting mailshot in the name of John McCracken, a court heard on Thursday.
Giving evidence at Lewes Crown Court, Julian Prus said he received the brochure, which promised "magnificent profits", in April 2006 when working for the Crown Prosecution Service.
He said: "I went for the maximum [subscription], which was £1,000; the reason for that was the brochure referred to a horse called Exponential. This horse was 100-1 [before being backed down to 8-1 in landing a major gamble at Nottingham in August 2004], so I thought McCracken had a gift that no other racing tipster could offer."
Prus was given a telephone number to ring to get tips, which he described as "initially quite poor", but said they "started to get better".
He went on to tell the court that several months later a message was left on the recorded tele­phone service related to a scheme to import stallions from Australia who could be sold for four times their purchase value in England.
"The recorded message invited you to call an office number," he said. "Then I spoke to a couple of very highly manipulative people. They said could you do £20,000. I said, 'No I can't, I haven't got it'."
Prus eventually invested £16,000 and admitted he left himself "rather short" in doing so. He said that after that, "nothing happened". There was no call from anybody about the investment and in September he started telephoning "various numbers" he had for McCracken.
After persevering for about a month, Prus said he finally got somebody on the phone, recalling: "They said be calm, keep cool, it's in the process of being sorted out."
Prus said he spoke to someone about three times, who gave his name as John McCracken, although he had no way of verifying whether the person was who he said he was.
Prus said he told McCracken he wanted his money back and that otherwise McCracken could face legal action. "He said he didn't really care about the consequences of legal action," he added.
"What he actually said was, 'I have been in and out of prison before. I don't give a f***'.
"He said he lived in Spain but all his assets were in the UK. He said he worked for a group of very unscrupulous backers, that he was a victim as much as I was, and that these backers had made his life hell."
Prus was sent a cheque for £2,000 as a refund but did not see the rest of his money.
McCracken, 47, from Brighton, is charged with conspiracy to defraud between April 30, 2003, and February 13, 2008, along with co-defendants self-employed John Brice, 40, of Hove, and Matthew Thole, 40, a company director from Cardiff. They deny the charges.
The trial is scheduled to resume on Monday and expected to last another two to three weeks.