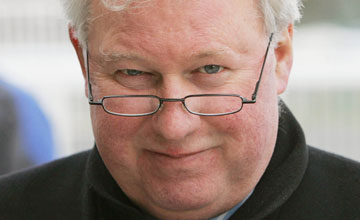 Jim McGrath: has called 20 Grand Nationals and 18 Derbys
PICTURE:
Mark Cranham (racingpost.com/photos)
Jim McGrath to retire from commentary box
THE unmistakable tones of one of the most familiar voices on the racecourse will be heard for the final time this year after Jim 'JA' McGrath announced he would be putting down his microphone from September after 40 years in the commentator's booth.
The Australian, who has become a fixture in the UK since 1987, has decided to retire from commentating and will call his last races on September 7 at Ascot, where he gained his first full introduction to the British racecourse audience.
McGrath, 60, was the BBC's racing commentator until the broadcaster ceased to cover horseracing last year. He has notified RaceTech of his plans to step down this autumn, when he will have called 20 Grand Nationals, 18 Derbys, 26 Royal Ascots and 20 Melbourne Cups. He will continue as The Daily Telegraph's racing correspondent Hotspur and with his appearances on At The Races.
"I'm retiring from commentating in Britain in September," he said. "It'll be 40 years exactly that I've made a living from racing commentary and think it's the right time to draw stumps.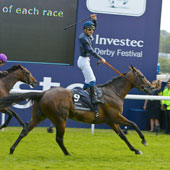 Pour Moi's Derby win is one of McGrath's favourite memories
PICTURE:
Mark Cranham (racingpost.com/photos)
"It was a difficult decision in that I love doing it, particularly the big meetings, but it was made easier by the fact the BBC no longer do racing. I suspect if the BBC had kept going and had renewed my contract I would still be commentating after September, but it's a fact of life they didn't and that's it.
"The beauty of the BBC job was you were able to do the Derby, Royal Ascot, the Grand National, the Arc every year. It was a fantastic privilege and great honour to call those races. They are the pinnacle, and although I could have kept on going and doing my Newton Abbots and Kemptons and the rest, it's not quite the same.
"I've arranged with Ascot to do September 7 and that will be my last commentary in Britain. I'll do the Melbourne Cup for BBC Radio 5 live in November and that will be my 20th broadcast of the Cup for them. I am looking forward to those."
Ascot has a resonance for McGrath, as it was where he called his first full major meeting. He had done race commentary at the Ebor meeting from 1984 to 1986, but the SGB C hase fixture of 1987 was his first as part of the Racecourse Technical Services roster. Next week he will commentate at his 26th consecutive royal meeting, 15 of which were for the BBC.
McGrath, who commentated in Australia and Hong Kong before relocating to Britain, where he worked as a reporter for the Racing Post and later succeeded Sir Peter O'Sullevan at the BBC, has introduced a host of phrases to the commentators' lexicon including 'the persuader', 'in the box seat' and 'scraping paint' during a career of many highlights.
He added: "The races I look back on memorably are Sea The Stars' Arc in 2009, Persian Punch winning the Goodwood Cup in 2003, Rodrigo De Triano in the Juddmonte in 1992, Pour Moi in the 2011 Derby and Red Marauder in the 2001 Grand National.
"They say I introduced 'the persuader', which I did, but I only ever used it once, which was at Newton Abbot 20 years ago. 'Three-way go' is one of mine, and jockeys are always 'scraping paint', even now we have plastic rails.
"The commentary box when I started had a microphone on a very big hook which went around your neck, but that was it. There was no television monitor, big screens, no colours on the racecard, nothing like the sophistication that exists now. Everyone has those aids now, which places a lot more emphasis on the need for accuracy."
Despite his experience McGrath was subjected to a six-month review of his performances last year in order to continue on the list of racecourse commentators, while he was overlooked for the Channel 4 Racing post when the network took over exclusive terrestrial coverage of horseracing in January.
"There are no regrets," he said. "I was asked by IMG if I would be available for any Saturday work through the season. I said I would be but they have two excellent commentators in Simon Holt and Richard Hoiles, and if it had been the other way around I think I would have been disappointed if the BBC had brought in someone from outside.
"There was no disappointment there. I'm very happy I was able to do a job I was passionate about and enjoyed so much."