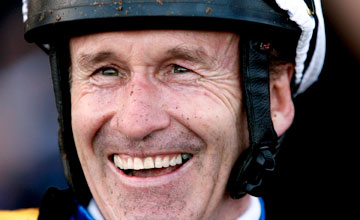 Jeff Lloyd: was admitted to hospital on Saturday
PICTURE:
Getty Images
Jeff Lloyd admitted to hospital with blood clot
South Africa: Six-time champion jockey Jeff Lloyd has been admitted to hospital with a potentially life threatening blood clot in the back of his head, it has emerged.
Lloyd has been riding in Australia having left Hong Kong last year and has ridden more than 4,500 winners during his career. He has been successful in 90 Group 1 races, and won more than 200 Group 2 and 3 races.
On Saturday Lloyd was admitted to the Pindara Private Hospital in Queensland, and his wife Nicola issued a statement, which read: "For those of you that are worried, I just wanted to let you know that Jeff is in hospital, after having a 'bad turn' and being stood down from riding on Thursday.
"He saw a doctor and had a cat scan on Friday. The results were not good and he has been hospitalised for further testing. We will know more after the advance MRI scan. We are praying for some good news and a speedy recovery for the love of my life and the most insipirational man I know."
Lloyd has ridden around the world during his career, including a spell in Britain in 1992 when he rode seven winners, five of which were for Richard Hannon.